There are roughly 300 breeds of dogs inhabiting our planet. With different features and personality traits, all these dog breeds require different environments & different types of diets.
Pet lovers need to know some important things about their pets' diet and certain breed specific diseases to take better care of their beloved pets.
Many common health issues can trouble dogs of all ages and sizes. You must know about those health issues to find out the proper treatment while keeping the dogs healthy and happy.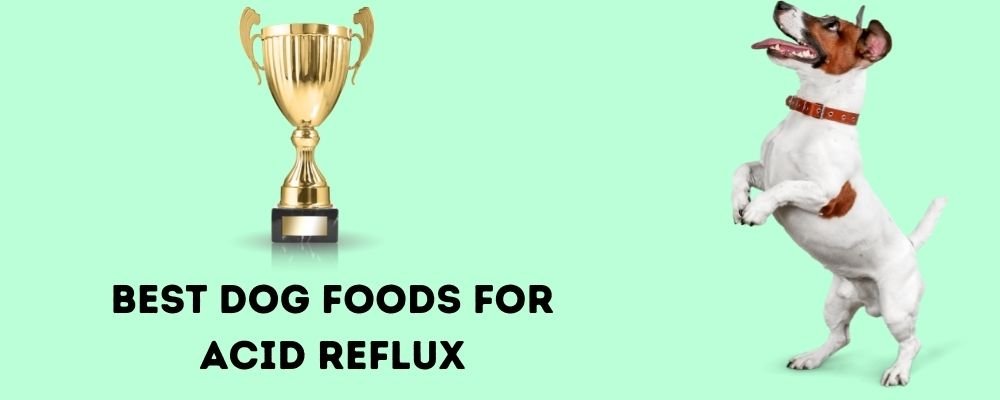 One of the most common disorders is acid reflux. This is a disorder that can be experienced by humans as well from time to time. If you have ever gone through acid reflux, then you must know and can fully understand how mad, painful and uncomfortable it makes one feel.
Humans are capable of expressing their feelings and seeking help, but canines cannot tell about their feelings in words. They use some signs to indicate the problem they are facing. This article will share some worth reading about acid reflux in dogs, its common signs, and the foods for canines suffering from acid reflux.
What is Acid Reflux in Dogs?
There are gastric and intestinal fluids present in the gut which are acidic. When these fluids come up from the stomach towards the esophagus, it can further cause irritation, inflammation, and damage to the esophagus lining.
A sphincter is a muscle naturally present at the base of the esophagus with the purpose to prevent these fluids from reaching the esophagus.
In healthy canines, a sphincter is there to block the way for these fluids to come up into the esophagus. But when the dog is not healthy or suffering from acid reflux, then the sphincter muscle does not function properly. Also, some dogs suffer with less poop.
It relaxes in such a way that the intestinal fluids come up into the esophagus and become problematic for the dog. Acid reflux is usually a sign of some gastrointestinal tract issue or a reaction to some issue. The best possible cure is to contact a veteran and seek medical help to treat the dog properly.
Signs of Acid Reflux in Dogs
The symptoms of acid reflux in canines vary a lot from one breed to another. But, here are the most common ones:
Jaw snapping
Air licking
Sign of nausea in dogs known as drooling
Vomiting can be clear fluid or food
Throat or stomach gurgling
Loud swallowing or gulping
To soothe his burning throat, eating specks of leaves, dust, or anything in his reach
On the other hand, the less common symptoms are
Fever
Low of appetite
Wheezing
Bad breath
Weight loss
Common Causes of Acid Reflux in Dogs
One of the causes of acid reflux is the production of stomach acid more than is needed. Here are few causes of acid flux in dogs: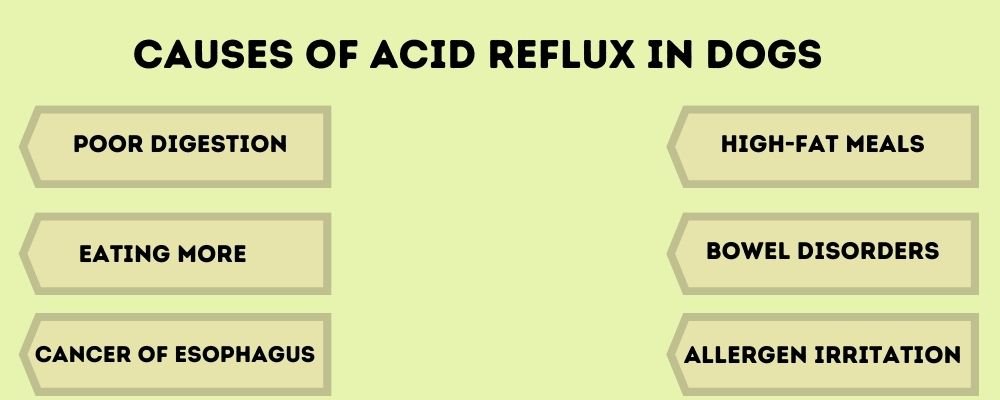 Poor digestion
High-fat meals
Eating more than necessary
Bowel disorders
Cancer of esophagus
Allergen irritation
List Of Best Dog Food For Acid Reflux
Image
Title
Price
Prime
Buy
Canidae All Life Stages Dry Dog Food, Chicken, Turkey, Lamb and Fish Meals, 44lbs

Prime

Eligible

Buy Now
Hill's Science Diet Dry Dog Food, Adult, Sensitive Stomach & Skin, Chicken Recipe, 30 Lb Bag

Prime

Buy Now
Nature's Recipe Grain Free Dry Dog Food, Salmon, Sweet Potato & Pumpkin Recipe, 24 Pounds, Easy to Digest

Prime

Eligible

Buy Now
Purina Pro Plan High Protein Dog Food With Probiotics for Dogs, Shredded Blend Chicken & Rice Formula - 35 lb. Bag

Prime

Eligible

Buy Now
Product prices and availability are accurate as of the date/time indicated and are subject to change. Any price and availability information displayed on [relevant Amazon Site(s), as applicable] at the time of purchase will apply to the purchase of this product.
Prices pulled from the Amazon Product Advertising API on:
Reviewed: Best Dog Foods for Acid Reflux
Choosing the right dog food is not an easy task. There is a whole range of products available in the market. To help you with this decision, here is a review of 3 best foods for dogs suffering from acid reflux.
1. CANIDAE Dog Food- Low Fat Low Protein Dog Food For Acid Reflux
This brand is highly successful at formulating its all life stages delicious formula for canines of all sizes, ages, and breeds.
Well, it is important to note that the purpose of CANIDAE dog food is not to give preference to one kind of canine over another however, to give average canines a high-quality diet according to their certain needs.
Moreover, this formula is completely free of wheat, soy, and corn thus, making it easy for canines to digest the food easily.
The inclusion of fish, turkey, lamb, and chicken makes CANIDAE dog food a highly recommended product for dogs suffering from acid reflux. The diet is fortified with minerals and vitamins & is formulated by vets. The food can also be used for Maltese and Corgies.
User Experience:
According to the pet parents, it is quality food with amazing ingredients. The best thing is that the CANIDAE dog food is also accepted by picky eaters. Many pet parents have said that this product help treat acid reflux in canines.
---
2. Hill's Science Dog Food- Natural Antacid For Dogs
If canines suffer from acid reflux & a sensitive stomach then it is necessary for pet parents to be very careful while selecting a new diet.
Natural and high quality ingredients are always good but are especially important for the canines suffering from acid reflux & no doubt, the Hill's science dry dog food will serve the best purpose in this regard.
After eating this food, the grown canine can have a balanced gut microbiome because of this prebiotic protein-rich food. The Hill's science dog food is full of Omega-6 fatty acids and vitamin E.
This food is specially made to be highly digestible. It promotes optimal nutrient absorption and pick-up of stool more easily.
User Experience:
Many buyers have amazed by the way this dog food has helped to solve all their dog problems. This food has been a cure for the stomach problems and acid reflux their dogs were facing for a long time. However, few buyers are not happy due to changed formula.
---
3. Nature's Recipe Dog Food- Best Canned Dog Food For Acid Reflux
Another healthy recipe to help treat acid reflux in canines. It is worth sharing that from last 30 years, this well-known has purposefully manufactured recipes with wholesome and natural ingredients along with added nutrients, minerals, and vitamins.
The No. 1 ingredient in nature's recipe dog food is real salmon. It is formulated in an easily digestible recipe that contains pumpkins and sweet potatoes.
It is dense in nutrients to promote health and wellness in dogs. It is made for dogs of all ages, ranging from puppies to grown-up dogs.
As canines with acid reflux normally have sensitive stomachs therefore, the Nature's recipe dog food has eliminated corn, wheat, and soy to help prevent digestive issues.
User Experience:
The majority of pet parents have highly recommend the Nature' recipe dry dog food to treat acid reflux in canines. Moreover, some buyers have liked the product for making their dogs healthy. Few people have complained that the formula is changed. And this is causing serious health issues.
---
4. Purina Pro Dog Food- Best Antacid For Dogs
This dog food comes with an optimal protein-to-fat ratio that helps in maintaining the dog's healthy body weight. The Purina pro dog food is fortified with live probiotics that improve digestion and immune health.
Moreover, it gives the canine's energy and outstanding nutrition to perform its daily tasks healthily and happily. This dog food is available in a variety of tastes and textures that you can choose from for your dog to enjoy his every meal.
Apart from other qualities, the Purina pro dog food is very delicious. It is advised to consider this amazing dog food if you have a canine with acid reflux.
User Experience:
Many dog owners have commented that this dog food is safe for canines and cause them to eat it happily and live their days healthily. Few have experienced moths and other insects in the dog food package. But for most people, this dog food is the right kind of food to keep their dogs healthy and preventing acid reflux & stomach disorders.
---
Buying Guide: Best Dog Foods for Acid Reflux
Taking care of dogs is not an easy task & it can becomes even difficult when your dog is ill and suffering from some health problems. Acid flux is one of the most common problems that dogs face.
This buying guide will help pet owners decide which food is good for their beloved canines when they are suffering from acid flux.
How to Select the Best Dog Food for Acid Reflux?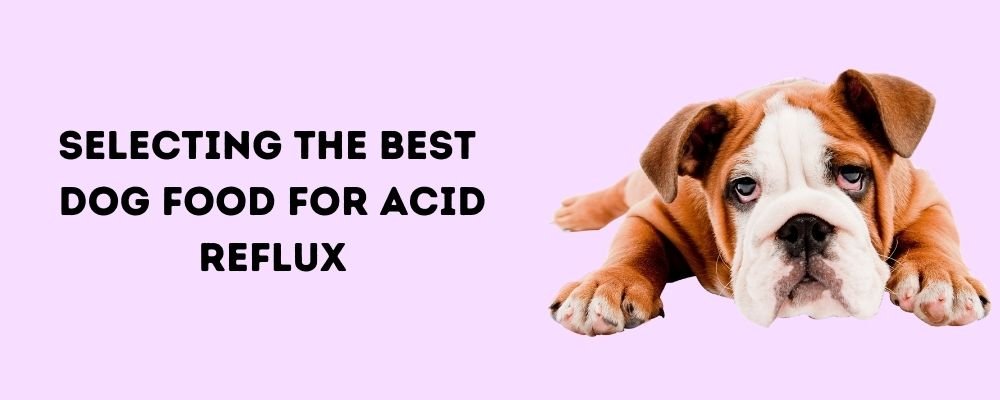 There are many things to consider while looking for the best dog food for acid reflux. Some food items need to be avoided and some others need to be added to your dog's diet. Here is a brief guide to these things.
Characteristics of Recommended Food for Dogs during Acid Reflux
If your dog is suffering from acid reflux, then altering its food is a very useful practice. It is good to add the following things to your dog's food:
To address intestinal dysbiosis, a blend of probiotics and prebiotics is fruitful. They help to balance the gut to its usual balance.
Reducing protein from the dog's food is a beneficial thing. Since proteins increase stomach acidity.
Adding digestive enzymes to the dog's food helps. They improve digestion, improve nutrient absorption, minimize acid production, and support detoxification.
Which Foods are bad for Dogs during Acid Reflux?
Here is a list of foods that need to be avoided as they can aggravate acid reflux:
Oily foods:
Spicy foods
Allergens including soy, gluten, and dairy. Removing these from dog food is also beneficial in curing and preventing acid reflux.
Colorings and preservatives:
Removing these from dog food is extremely beneficial in curing and preventing acid reflux. Also You should make a dog acid reflux diet plan when your pet is suffering from it.
Conclusion:
In the end, it can be said, while an expert vet is the best person to tell you about your dog's diet and foods that you need to feed your dog. But there are a few things you can keep an eye on. This article has tried to help dog owners in finding the right food for your dog who is suffering from acid flux.