A small, cute, loyal, and endearing dog, with beautiful black eyes and flowing white fur, these words can truly describe this adorable ancient canine breed, Maltese in the perfect way.
Tiny but brave, loving but playfully curious, this dog breed makes the best companion pet. No doubt, Maltese canines are dearly loved by many particularly, the well-known celebrities due to their fluffy fur and sweet personalities.
But despite being small canines, the Maltese should be provided with a lot of calories in order to maintain good health and body weight.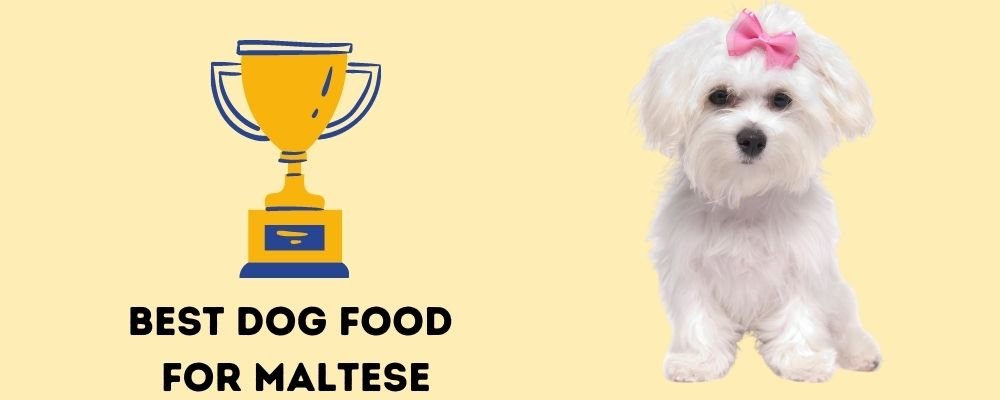 Providing the Maltese with premium-quality dog food is extremely important for minimizing the risk of different health issues while keeping their beautiful skin and coat in perfect condition.
So, continue reading the article to learn more about the Maltese's nutritional requirements along with top recommendations concerning the best dog food for Maltese.
Breed's Overview
A fearless and gentle canine breed that greets everybody as a friend. This is an energetic, vigorous canine that excels not just as a companion but as a therapy canine as well.
Throughout the breed's long history, it has been given different names including, the Comforter, the Roman Ladies Dog, the Bichon, the Spaniel Gentle, & the Maltese Terrier.
However, today, the breed is simply known as Maltese. Even though, Maltese look aristocratic and delicate, he is a power bunk of energy same as Goldendoodles. Well, no dog breed is just perfect, & Maltese at times are intolerant of other dogs and small children.
Maltese are usually healthy however, like other dog breeds, they are prone to few health conditions. Eating issues can also occur if Maltese has gum and teeth problems.
So, if Maltese is constantly showing discomfort while eating or even after eating then, the pet owners should take him to an experienced vet.
Important Note:
It is worth sharing that how much an adult canine eats always depends upon his activity level, metabolism, build, age, and size. Canines are individuals & just like human beings, they do not all need the same quantity of food. And, the same goes for Maltese. The quality of food Maltese owner's purchase can make a huge difference.
Common Health Issues in Maltese Dogs
Well, just like every dog breed, Maltese is prone to few health issues than others including the following:
Dental problems
Ear infections
Ulcer and eye irritation
Portosystemic shunts
Hip dysplasia
What Type of Food Items do Maltese Dogs Eat?
All canines need a good quality diet however, the quality of included ingredients is very important for Maltese canines as they are quite small. Moreover, they are prone to develop food allergies and sensitivities.
So, Maltese dogs should be fed a calorie-dense diet. A premium-quality dry food item will serve the best purpose when it comes to keeping the Maltese teeth neat and clean; however a dehydrated, raw, & freeze dried item would be the good option as well if pet parents can afford them.
List OF Top 3 Best Dog Foods For Maltese
Image
Title
Price
Prime
Buy
Wellness CORE Natural Grain Free Dry Dog Food, Small Breed, 4-Pound Bag

Prime

Eligible

Buy Now
CESAR Soft Wet Dog Food Loaf in Sauce Rotisserie Chicken Flavor with Bacon & Cheese and Filet Mignon Flavor with Bacon & Potato Variety Pack, (24) 3.5 oz. Easy Peel Trays

Prime

Buy Now
Blue Buffalo Basics Limited Ingredient Diet, Grain Free Natural Adult Dry Dog Food, Turkey & Potato 24-Lb

Prime

Eligible

Buy Now
Product prices and availability are accurate as of the date/time indicated and are subject to change. Any price and availability information displayed on [relevant Amazon Site(s), as applicable] at the time of purchase will apply to the purchase of this product.
Prices pulled from the Amazon Product Advertising API on:
Reviewed: Best Dog Foods for Maltese
When it comes to selecting the best dog for food for Maltese, prospective buyers should remember that this adorable dog breed loves to be pampered all the time therefore, it can be a little hard to pick the right kind of food for them. These pets have almost the same size as Shiba Inu and golden retriever so their food needs are almost the same too.
Moreover, the best dog food for Maltese should contain quality proteins & healthy fats. Keep reading the article in order to know more about the best dog foods for Maltese currently available.
1. Wellness CORE Dog Food- Best Dry Dog Food For Maltese
The 1st product on this list is formulated by one of the most reliable and vet recommended brands to help Maltese maintain a good health and well-being.
The recipe is completely grain-free & good at supporting high-energy Maltese dogs. Furthermore, this delicious food is protein-rich as it is made primarily with turkey and real chicken.
Maltese dog lovers would be happy to know that Wellness CORE recipe does not contain any kind of artificial colors, preservatives, flavors, and meat-by-products.
The kibble is also fortified with animal fat, vitamins, and minerals thus making it a worth buying dog food for Maltese.
User Experience:
According to the Maltese owners, the Wellness CORE dog food is top-notch due to being healthy & tasty. Many buyers have commented that the ingredient list is simply amazing & the price is also reasonable. So, the product is worth every penny spent.
---
2. Cesar Gourmet Dog Food- Best Dog Food For Maltese With Allergies
This great dog food contains 24 food cans with the balanced of both filet mignon and rotisserie chicken flavors. Both flavors are carefully fortified with minerals and vitamins.
It is vital to mention that this healthy recipe is recommended for all dog breeds of all sizes however, it is mainly designed for small dog breeds including Maltese. It is considered good dog food for maltese by pet parents.
The Cesar Gourmet dog food is perfectly served in convenient trays with simple, easy, peel away freshness seals. The 1st three ingredients are animal liver, beef-by-products, and water. The most noticeable feature of this dog food is that it does not contain grains.
User Experience:
Many Maltese owners have bought this dog food and recommended the product to others as well. According to them, the ingredients are extremely good & Maltese dogs have not faced any kind of digestive issues after eating the Cesar Gourmet dog food.
---
3. Blue Buffalo Dog Food- Dog Food For White Dogs
Another great product for all those Maltese lovers who are looking for a budget-friendly yet effective recipe. The Blue Buffalo dog food contains premium-quality ingredients to help ensure Maltese's impeccable well-being.
Additionally, Maltese owners will definitely be amazed to see the Blue Buffalo's great inclusion of carbohydrates and proteins in order to match the energy needs of their beloved Maltese dogs. Also, it can be used as a Best dog food for Maltese tear stains problems.
The recipe contains real turkey as the # 1 ingredient and primary source is animal protein. The blend of peas, potatoes, and pumpkins is also there to support healthy digestion.
The recipe does not have any wheat, soy, corn, eggs, and chicken thus, can be considered as one of the best dog food for Maltese.
User Experience:
According to the buyers, the Blue Buffalo dog food is surely the best one as compared to other high end brands due to the ingredients used. In fact, many Maltese owners have commented that their beloved pets who are quite sensitive to changing food did extremely well on this.
---
Buying Guide: Best Dog Foods for Maltese
With the wide range of products out there, finding the best, workable, reliable, and safest Maltese dog food can be difficult. Hopefully, the above-reviewed top 3 picks has helped prospective buyers to make their minds. However, if they are looking for more information concerning what actually makes a dog food worth buying for Maltese then, continue reading this buying guide.
What to Look for In the Best Dog Foods for Maltese?
Like every dog breed, Maltese need good and healthy food in order to have a happy, healthy, and long life. But what exactly is the best dog food for Maltese is? Hopefully the following criteria help Maltese lovers to select the right kind of product.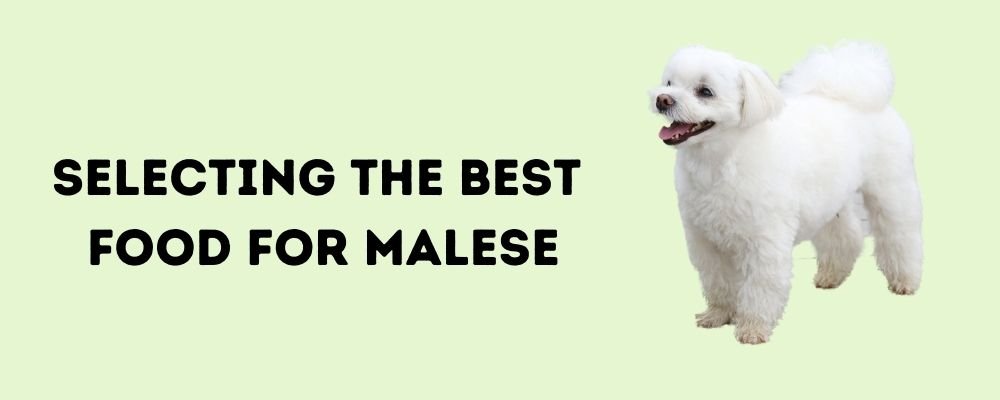 Preference should be given to good-quality, wholesome ingredients. It means high-quality meat first & foremost, complex carbohydrates & healthy fats along with fruits and vegetables.
Like other dog breeds, Maltese dogs usually grow well on moderate to high protein food items
In order to have healthy coat and skin, Maltese should be provided with plenty of premium-quality and healthy fats
Ingredients that should be avoided:
Usually, the majority of dog food brands make use of quality ingredients & formulate amazing products that are not just delicious but are healthy and nourishing too. But, few brands do not due to the inclusion of artificial additives, unnecessary fillers, etc. Therefore, be very careful while picking the dog food for Maltese and try to avoid the following:
Fillers such as corn barn, oat hulls, wheat and soya bean mill run
Artificial additives
Meat by-products
How Much Should Pet Parents Feed their Maltese Dogs in a Day?
It is important to note that Maltese pups need approximately 55 calories/ pound of their body weight whereas adult Maltese canines need almost 45 calories, even though this depends on the activity levels of the Maltese.
Is Small Kibble Good for Maltese?
Yes, small kibbles are very easy to chew by tiny Maltese due to their small jaws. Whereas, large kibbles are considered slightly dangerous because they pose a blocking hazard to small canines like Maltese.
What Kind of Treats Should Pet Owners Feed Maltese Canines?
The safest and healthiest treats for Maltese should contain all-natural food items such as fruits, vegetables, and meat.
Verdict:
In the end, I would like to say that high quality and well-balanced nutrition is extremely important for canines of all sizes and breed types.
No doubt, taking care of the energetic & spunky Maltese could be a tough job when pet parents are not sure what formulation of the food items will make the best choice. Well, this article has reviewed the top-selling formulas that will surely provide a healthy & nutritious diet for Maltese.