Dogs are the most loyal and best animal pets people can ever find. And just like humans, canines need some peaceful and quiet space in order to rest & relax whenever they want.
If pet lovers are planning to bring a Golden Retriever at home than, no doubt it will be the best decision of their lives. Golden retriever is a large breed of canines as American Bully and Australian Shepherds. Even though, not normally a couch potato, a Golden retriever does need relaxation and resting time.
Isn't Golden retriever' simply amazing? He is smart, sweet, curious, & full of life. It is worth sharing that Golden retrievers have bubbly personalities & are friendly with kids.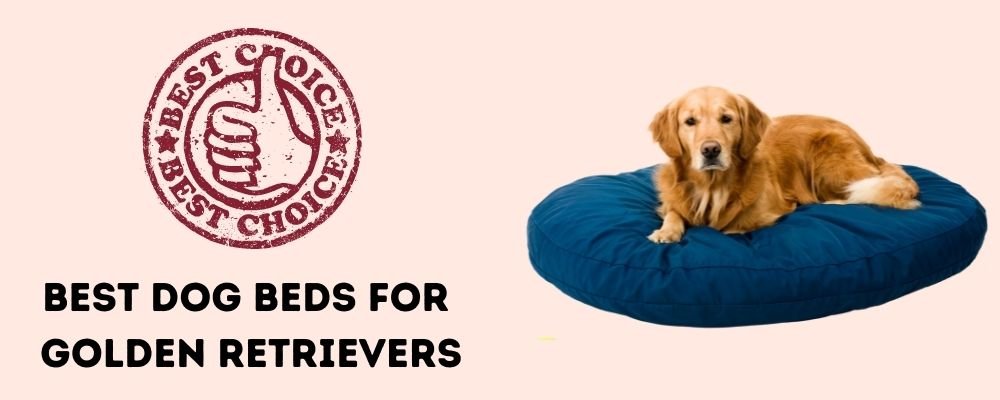 To say the least, having a golden retriever will make pet parents want the best for him. On the other hand, being a responsible pet parent, it is important to take care of the Golden Retriever's health & hygiene. I would suggest buying a comfortable & best bed for your precious Golden retriever so he can have a comfortable night sleep.
What Exactly a Dog Bed is?
Basically, it is a mattress that is especially designed for canines. The only purpose is to give the canine a well-supported and comfortable space during rest time. The foamy base of the mattress is designed after considering the needs of various dog breeds so, that the canines can enjoy their beds to the fullest and rollover bed.
What are the Different Kinds of Dog Beds for Golden Retrievers?
For the Golden Retriever pup to grow up into a healthy and happy adult, it is extremely important that the pet parents should provide him with the comfortable bed right from the beginning.
All those pet parents who have not investigated the topic earlier, they might be surprised to know that there are numerous kinds of canine beds currently available ranging from fleece mats, to caves, to cots, & heated beds as well. In fact, there is a type of bed well-suited to every dog breed irrespective of age and size.
But here I am specifically talking about one of the famous dog breed i.e. Golden retrievers. So, following are the best kinds of the beds for Golden retrievers: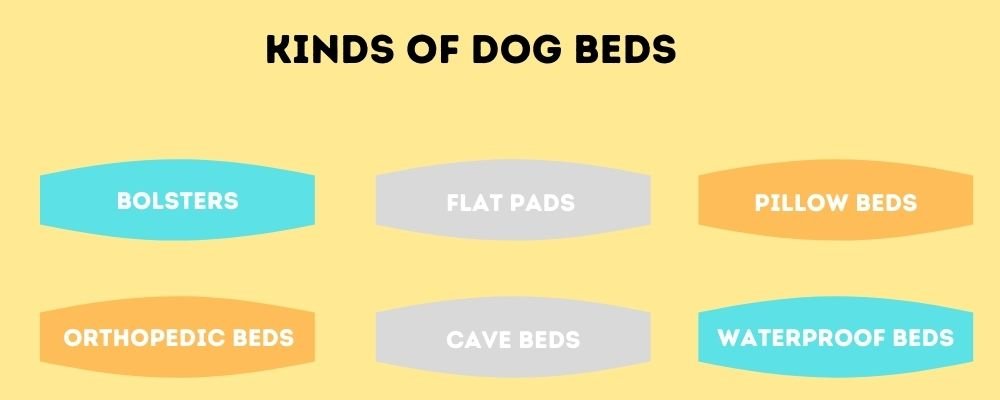 Bolsters
Flat pads
Pillow beds
Orthopedic beds
Cave beds
Waterproof beds
What Size of Canine Bed Do Pet Parents Should Buy for Golden Retrievers?
Firstly, it is vital to remember that Golden Retrievers are medium to large sized canines. The measurements for adult Golden retrievers are as follows:
Female Golden Retriever- around 22-22.5" tall with a body weight ranging from 56-65 pounds
Male Golden Retriever- 24-25" tall with a body weight ranging from 66-67 pounds.
Before buying the bed, it is advised to measure the Golden retriever from his/her nose to the end of tail while sleeping. Then, add 9-11" in order to ensure sufficient wiggle room.
List of Best Dog Beds for Golden Retrievers
Image
Title
Price
Prime
Buy
PetFusion Ultimate Dog Bed, Orthopedic Memory Foam, Multiple Sizes/Colors, Medium Firmness Pillow, Waterproof Liner, YKK Zippers, Breathable 35% Cotton Cover, Cert. Skin Safe, 3yr Warranty

Prime

Eligible

Buy Now
Big Barker 7" Orthopedic Dog Bed with Pillow-Top (Headrest Edition) | Dog Beds Made for Large, Extra Large & XXL Size Dog Breeds | Removable Durable Microfiber Cover | Made in USA

Prime

Eligible

Buy Now
Barkbox 2-in-1 Memory Foam Dog Bolster Bed | High Density 3'' Base Orthopedic Joint Relief Crate Lounger or Donut Pillow Bed, Machine Washable + Removable Cover | Waterproof Lining | Large, Grey

Prime

Eligible

Buy Now
Product prices and availability are accurate as of the date/time indicated and are subject to change. Any price and availability information displayed on [relevant Amazon Site(s), as applicable] at the time of purchase will apply to the purchase of this product.
Prices pulled from the Amazon Product Advertising API on:
Reviewed: Best Dog Beds for Golden Retrievers
Looking for the best and comfortable bed for a Golden retriever but do not know from where to start the process? Whether a Golden retriever is a pup, an adult or a senior canine, there is a canine bed (or two, even three) according to their specific needs.
While selecting dog beds for Golden retrievers, pet parents should note his/her size, personality, sleeping habits along with the purpose of purchasing a specific product. Some top recommendations are as follows:
1. PetFusion Dog Bed- Golden Retriever Bedding
The 1st product on this list is designed by one of the most famous and reliable brand i.e. PetFusion. This is a sofa style canine bed that will give Golden retriever a comfortable and peaceful sleeping experience.
It is worth sharing that this superb bed features a 4" orthopedic memory foam pad which is considered highly recommended for Golden retrievers to give proper joint support while sleeping.
The most noticeable feature of PetFusion dog bed is that it has a washable and removable outer cover thus, it would be easy for pet parents to clean it without any issue. The product is available in different neutral colors as well.
User Experience:
According to the buyers, beside its great fit in bed frames, the memory foam base is soft and dense. Many Golden retriever lovers have commented that this is a high quality bed at a price range & thus, highly recommended.
2. Big Barker Dog Bed- Golden Retriever Pillow Pet
This product is considered an ultimate and enjoyable luxury experience for Golden retrievers. The Big barker dog bed is especially designed to help support large canines including Golden retrievers that always need moderate joint and hip support as they grow.
Moreover, the 7" orthopedic foam mattress is quite big as compared to other high-end memory foam beds. The big barker dog bed has a 4" foam headrest & is perfect for canines who have a habit of elevating their heads while sleeping.
It has a soft, smooth, luxurious microfiber cover that can easily be washed in a machine so pet owners can wash it whenever required.
User Experience:
Many pet parents have bought the big barker dog bed for their precious Golden retrievers and according to them, all those who are looking for the top of line, great memory foam canine bed, should look no further as Big barker bed is a perfect choice.
3. Barkbox Dog Bed- Golden Orthopedic Mattress
This comes under the category of memory foams & donut cuddler beds that are meant for large canines. Pet parents can find a removable orthopedic memory foam pad inside the bed along with the layer of cooling gel on top to help regulate the Golden Retriever's temperature.
Furthermore, the Barkbox dog bed features a wraparound donut bolster to make assembling the bed more easy. The bed's zippered cover slides off like a dream for convenient cleaning. It can also be used for golden retriever rugs.
The best thing is that, the Barkbox dog bed is available in a light grey, the amazing neutral cozy color in order to match the home décor of any Golden Retriever lover. This top-quality dog bed also comes with a bonus surprise toy that Golden retrievers will surely love.
User Experience:
Many Golden retriever owners have loved the quality of Barkbox dog bed. They have commented that Golden retrievers seem to love their new bed & it's been extremely durable and comfortable so far. Few buyers have commented that this product is surely what they consider heavy duty as compared to typical cuddler beds.
Buying Guide: Best Dog Beds for Golden Retrievers
Without any doubt, it can be said that Golden Retrievers are the most famous and beloved canine breeds all around the world. Usually, Golden retriever lovers are quite emotionally attached to their precious pets.
Due to this reason, pet parents want the best for them. Obviously, this also includes a comfortable sleeping setup & the best dog bed will surely result in a healthier and happier dog.
How to Select the Best Dog Bed for a Golden Retriever?
There are several dog bed options available & deciding where to invest the money can be a bit overwhelming. Well, do not worry below are the some core features Golden Retriever lovers should look for while selecting the best and reliable product: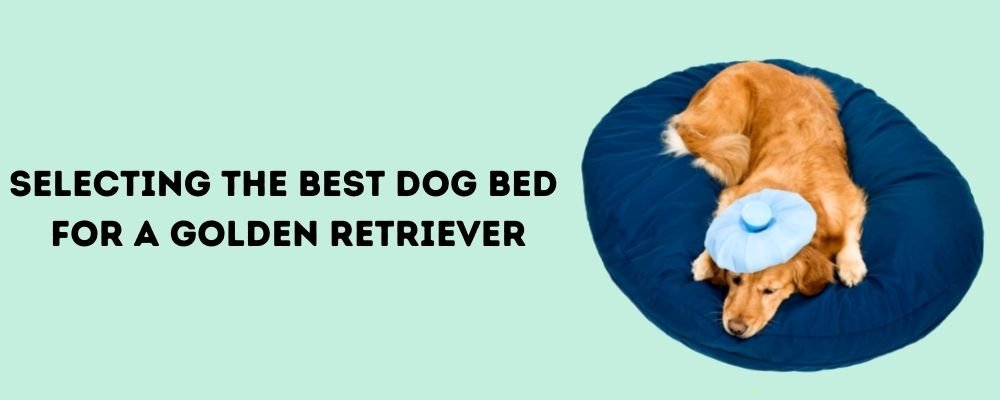 Give due importance to proper shape and size
A machine washable bed is highly recommended
Removable over allow dog bed to remain fresh & hygienic
Adequate cushioning can prevent the Golden retriever's joints and bones from pressing directly into floors
Durable materials will serve the best purpose
Few Specific Bed Requirements for Golden Retrievers
Now, apart from considering the core features, it is important to keep in mind the breed specific characteristics while buying the best bed for Golden retrievers.
Go for a bed that is according to the climate
Pick a dog bed that gives good support
Buy a dog bed that is water-resistant or water-proof
Is it Necessary to Get an Orthopedic Dog Bed for Golden Retrievers?
Well, sometimes. Orthopedic beds can be quite beneficial to senior golden retrievers exhibiting symptoms of muscles or joint pain. In my opinion, it is worth investing in, if the vet has recommended you to get an orthopedic bed.
What's the Best Practice of Introducing New Bed to Golden Retrievers?
There are some great strategies pet parents can easily use to introduce new bed to Golden retrievers. Firstly, pet parents can encourage their canines by simply placing the favorite blankets or toys in the new bed. Secondly, training golden retrievers by saying lay down or go to your bed along with a treat will surely help.
Final Thoughts
In this article, I have looked for premium-quality dog beds currently available with the most comfortable yet appealing designs according to the breed specific needs of Golden retrievers. It is worth sharing that Golden retrievers are some of the very fun canines all of time & no wonder, they deserve the best. All the above-reviewed products are perfectly suited for the Golden retrievers.