Guard canines, gentle giants, leaders of herding, confident, brave, all of these terms are used to describe "Rottweilers". These loving, caring, and big creatures are usually misunderstood by all those pet parents who do not know them or just have met an evil seed, but Rottweilers are genuinely considered as some of the loyal and sweetest dogs around.
Moreover, the Rottweiler like American Bully is a large and strong breed canine with a muscular and heavy build & a black & tan coat.It is a scientifically proven fact that Rottweilers are the best canine breed in the world therefore, it is advised to provide them with a nutrition befitting their considerable awesomeness.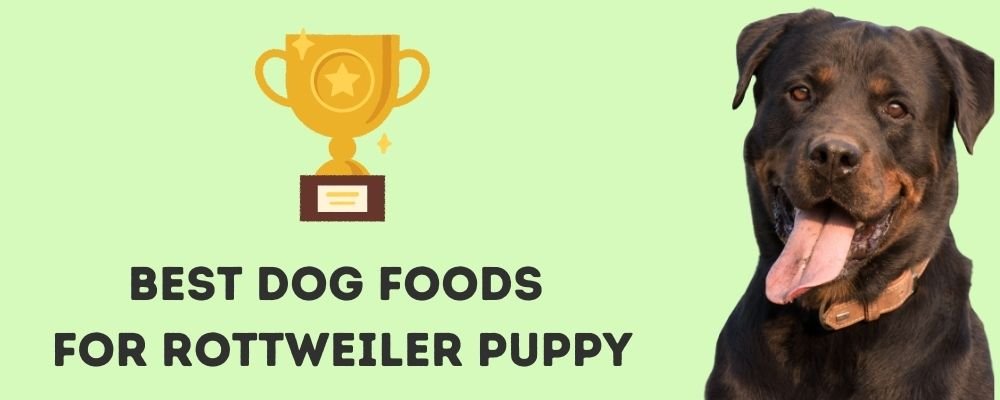 And, just like other canine breeds, Rottweilers have few specific nutritional requirements and due to being carnivores, they usually eat meat.
When it comes to selecting the best dog food for Rottweiler, the buyer's decision can have a direct impact on Rottweiler's quality of life. The article will give some worth reading information that pet parents need in order to make a wise decision.
Breed's Overview:
Rotties or Rottweilers are both ancient canine breeds & a well-known modern pet canine choice today. The Rottweiler is a tough working breed of strength descended directly from the mastiffs of Roman legions.
It is vital to mention that a well-bred & carefully raised Rottweiler can be calm, happy, courageous, & confident however, not overly aggressive. The Rottweiler is one of the highly recognizable dog breeds with a firmly muscled body, large head, & specifically handsome black & tan markings.
Rottweiler Dog at a Glance:
This dog breed nearly became extinct during the period of late 1800s when small canines assumed some of their functions & were easy to maintain.
Weight Range:
Female- 81-100 Ibs.
Male- 86-135 Ibs
Features:
Naturally they have floppy ears
Bred for:
Draft, guardian, and cattle drover
Personality and Temperament:
Affectionate and loving
Can be more prone to canine aggression
Intelligent but stubborn
Nutritional Requirements of Rottweilers:
Pet parents should know that Rottweilers can do extremely well on a premium-quality dog food whether homemade or commercially manufactured; however vet's supervision & approval is important.
The selected dog food should be according to the Rottweiler's age, size, and activity level. Some Rottweilers have a tendency to gain a lot of weight therefore, pet parents should consider the calorie consumption & weight level.
Do Rottweiler Canines Have Breed Specific Health Needs?
Well, luckily Rottweilers only have a few health issues as compared to other dog breeds. The common health challenges are hip and joint issues including hip dysplasia. Apart from this, other health issues that Rottweilers can experience are as follows:
Bloating or twisted stomach
Cancer
Joint problems
Von Willebrand's Syndrome
Aortic Stenosis
Panosteitis and elbow dysplasia
What about Food Sensitivities and Allergies?
Food sensitivities and allergies can cause different symptoms ranging from mild to severe. Few symptoms of the severe food allergies are:
Rear end or licking feet
Itchy, cracked, and red skin
Eye and ear infections
Chronic gas and diarrhea
Foods That Can Cause Allergies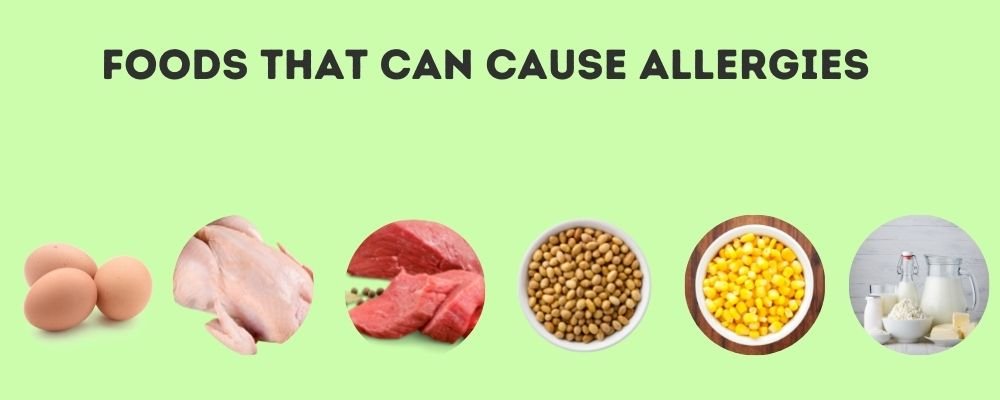 Eggs, chicken, beef
Soy, wheat or corn
Dairy
Reviewed: Best Dog Foods for Rottweiler Puppies
If pet parents want to ensure that their beloved Rottweiler Puppies get the healthy and good quality food items possible then, they will need to scrutinize the available choices carefully after considering the breed's unique characteristics and needs in mind.
Image
Title
Price
Prime
Buy
Blue Buffalo Wilderness High Protein Grain Free Natural Adult Dry Dog Food, Salmon 24-lb

Prime

Buy Now
Blue Buffalo Wilderness High Protein Grain Free Natural Adult Dry Dog Food, Salmon 24-lb

Prime

Buy Now
Wellness CORE Natural Grain Free Dry Dog Food, Large Breed, 26-Pound Bag

Prime

Eligible

Buy Now
Product prices and availability are accurate as of the date/time indicated and are subject to change. Any price and availability information displayed on [relevant Amazon Site(s), as applicable] at the time of purchase will apply to the purchase of this product.
Prices pulled from the Amazon Product Advertising API on:
So, below I will provide prospective buyers with three great and worth buying options for their cuddly and cute Rottweiler puppies.
1. Blue Buffalo Dog Food- Good Dog Food For Rottweilers
It is quite easy to see why the majority of pet lovers prefer feeding their Rottweiler puppies with an amazing recipe offered by Blue Buffalo. The product has the high protein content soured mainly from deboned salmon & then beefed up along with chicken meal & complements by essential amino acids delivered by peas.
No doubt, it is a completely grain-free formula however, that does not mean the Rottweiler will only be relying on healthy proteins to fulfil energy needs.
The recipe also comes with healthy fruits and vegetables, wholesome starches & a wide range of probiotics, prebiotics, and botanicals to help ensure optimum health of the growing Rottweiler.
User Experience:
According to the buyers, this is the only food that their very picky and spoiled Rottweiler puppies can eat easily. The majority of pet parents have appreciated the company's dedication to quality. Overall, it is a great product with pet friendly ingredients.
2. Taste of the Wild Dog Food- Best Dry Food For Rottweiler Puppy
This is a premium, healthy, grain-free canine food that is especially designed to give Rottweilers with food items that mimics the wild canines' diet.
The best thing is that, the taste of the wild features an extremely impressive list of ingredients which begins with top-quality proteins such as chicken meal, duck meal, duck, & relies on potatoes, peas, and sweet potatoes for the main part of its carbs content.
Moreover, many supplemental proteins are incorporated in the taste of the wild dog food in order to ensure that the recipe is as scrumptious as it is healthy and nutritious. It is worth mentioning that overall, 32% of the diet's weight comes directly from the protein sources thus, highly recommended for Rottweilers.
User Experience:
Many Rottweiler lovers have bought this product and according to them, Taste of the Wild is surely a much conceived dog food which most Rottweilers seem to find very tasty. The majority of pet parents are happy with this dog food as they have noticed improvements in the canine's coat and skin health.
3. Wellness CORE Dog Food- Fat Rottweiler Puppy Food
It is an amazing food for most Rottweilers as the Wellness CORE dog food is made from all-natural & premium ingredients. In short, this product has one of the highly impressive and healthy ingredient lists available in the market.
The recipes of Wellness CORE are extremely nutritious however, the Large Breed recipe is especially formulated to meet the nutritional requirements of big canines such as Rottweilers. The food derives a huge 34% of its calorie content from healthy protein sources such as turkey meat, chicken meal, and deboned chicken. Considering all of its factors this is the best food for rottweiler with a sensitive stomach.
Moreover, it is full of vegetables, fruits, and antioxidants to help support Rottweiler's immune system. Chondroitin and glucosamine are also included in this recipe in order to protect the canine's joints.
User Experience:
Most Rottweilers & their owners prefer Wellness CORE dog food & become die heart fans of this famous brand. Many Rottweiler owners who have tried this recipe found that it actually helped improve the canine's overall health.
Buying Guide: Best Dog Foods for Rottweiler Puppies
Whether pet parents are planning to feed the Rottweilers or any other dog breed, the purpose should be to obtain healthy, high-quality, and safe food for them. And, while unrepeatable issues can always occur, pet parents can easily avoid most issues after considering this buying guide.
What Factors should be kept in Mind While Selecting the Best Diet for Rottweiler Puppies?
While pet parents are shopping for the best dog food for Rottweilers, they should ensure that the below-mentioned ingredients are listed on the product's label: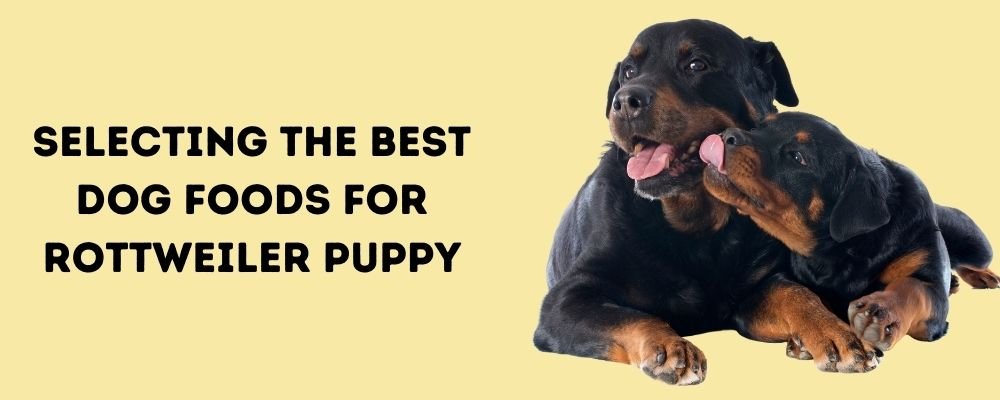 Micronutrient such as Vitamin E, A, B vitamins, Calcium, Chondroitin , and Glucosamine
Wholesome grains including oatmeal, brown rice, brewers rice, barley.
Low to moderate healthy fats including chicken, beef, and fish oil
Easily digestible & premium quality proteins such as turkey, salmon, bison
How to Keep Rottweiler Puppies in the Best of Health?
As mentioned earlier, Rottweilers are an active & high-maintenance dog breed. In order to achieve optimum health, pet parents should maintain the Rottweiler's coat and claws, take them for exercise, give them sufficient training, offer them a premium quality diet, and most importantly, look out for potential health issues.
Ingredients or Foods to Avoid:
It is advised to avoid the following eatables:
Garlic
Onions
Raisins
Grapes
Sugar
Table scraps
Final Thoughts
Overall, it can be concluded that feeding Rottweiler Puppies a nutritious and balanced diet is important when it comes to their well-being & overall health. The above-listed dog foods are some of the best and highly recommended foods that are especially formulated for Rottweiler puppies to meet their daily dietary requirements.
No doubt, with a wide range of available options, it can be tough to find good quality foods for Rottweiler puppies but hopefully the above-reviewed products have helped prospective buyers find their beloved companion's next healthy meal.