American bully is a relatively new dog breed, recognized first at the beginning of the twenty-first century. It is a beautiful canine that originated from Terrier breeds and cross-breeding bullies. Despite being initially bred as fighting canines, American bullies have easy-going natures. American bully is a very trainable & great dog breed for adoption.
Moreover, American bullies are considered stocky & muscular canines therefore, proper nutrition is extremely important in order to keep up with their huge sizes & different demands of physical activities.
Similar to the famous Australian shepherd or the Maltese, the American bully has quite different nutritional requirements. As an important member of the large canine breeds, American bully can gain upto 90 pounds of weight therefore, pet parents have to provide them with an all-natural and healthy diet in order to promote the smooth development of strong, lean muscles.
This article will provide readers with information about American bully dog food, its food requirements, and the recommendation concerning the best foods for American bullies. Pet parents would not have to linger here and there to search for the benefits and harmful effects of these food products, all such information will be provided here.
Breed's Overview:
Before moving ahead, I would like to share that American bullies do not live up to their names. In fact, these intimidating-looking canines are actually the real sweethearts as like Doberman. The thickest, strong, and compact build and running fast is the major characteristic of this dog breed.
This is one of the famous and highly recommended family canines around & thrives in the homes where he will be pampered and loved. American bullies have their own unique breed & gained recognition from the kennel club in 2013. This dog breed is considered as the true definition of gentle giant. Some facts are as follows:
Overview: Purebred
Weight: 70-120 pounds
Purpose: Family companion
Temperament: Loving, docile, and gentle
Size: 17-20"
American Bully Health Issues:
Health & grooming is an important part of every dog breed. All those who are planning to adopt an American bully should know about his health & fitness. This canine is usually healthy however, they are prone to few health conditions as like their fellow breeds like shiba Inu such as: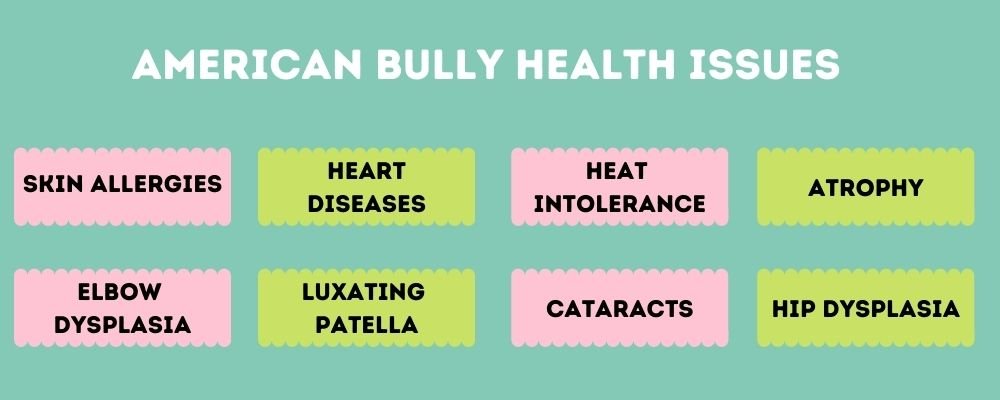 Skin allergies
Heart diseases
Heat intolerance
Atrophy
Elbow dysplasia
Luxating patella
Cataracts
Hip Dysplasia
Feeding & Diet:
American bully is a big canine with a big urge to eat a lot. Therefore, pet parents should put aside the monthly budget for premium-quality and delicious protein packed food items. Apart from this, pet parents can give their American bullies raw meat or wet food items every so often.
It is worth sharing that purchasing dog food can be a bit difficult. Between the unexpected recalls of famous brands & new diseases popping up all over, it is hard to find the best food for any canine regardless of size and breed. But it can be even trickier to find the good quality for canines like American bullies as they need more protein and calories.
Reviewed: Best Dog Foods for American Bully
As mentioned earlier, it is difficult to find a product that is nutrient packed and well-balanced without sacrificing on taste and quality. Thankfully, I have done all the hard work to help pet parents pick the best dog food for their beloved American bullies. These products have been selected after considering the dietary needs of American bully.
Image
Title
Price
Prime
Buy
VICTOR Select - Beef Meal & Brown Rice Formula, Dry Dog Food 40 lbs

Prime

Eligible

Buy Now
ORIJEN Puppy Dry Dog Food for Large Breeds, Grain Free, High Protein, Fresh & Raw Animal Ingredients, 25lb

Prime

Eligible

Buy Now
BULLY PERFORMANCE BP16932 All Life Stage Dog Feed Bag44; 40 lbs

Prime

Eligible

Buy Now
BULLY PERFORMANCE BP16932 All Life Stage Dog Feed Bag44; 40 lbs

Prime

Eligible

Buy Now
Product prices and availability are accurate as of the date/time indicated and are subject to change. Any price and availability information displayed on [relevant Amazon Site(s), as applicable] at the time of purchase will apply to the purchase of this product.
Prices pulled from the Amazon Product Advertising API on:
1. Victor Select Dog Food- Best Dog Food For Bullies
The 1st product on this list is offered by Victor, a dry kibble that is especially made with whole grains and proteins for a healthy and complete diet.
The victor select dog food has a reliable protein source that is beef-based and it is considered perfect for American bullies who are allergic to poultry. Moreover, the food is fortified with minerals and vitamins, giving the American bully a balanced diet with every meal.
It is vital to mention that this kibble contains a perfect & blend of probiotics and prebiotics which gives American bullies digestive support & help fight different infections.
User Experience:
According to the buyers, this dog food is great for American bullies. Victor select is a premium-quality dog food at a reasonable price range. Many buyers have commented that this food has minimal poultry which is good for American bully's stomach and skin.
2. ORIJEN Dog Food- Best Puppy Food For Bullies
A great kibble that is formulated for active American bullies, ORIJEN's dog food uses raw and fresh animal ingredients for a huge range of nutrients, including bones, organs, and cartilage.
The recipe also uses grain-free items that are enriched in protein, so it is considered perfect for growing American bully breed pups.
Furthermore, the nutrient-packed recipe helps with healthy weight gain particularly for energetic and active puppies that might struggle a lot when it comes to maintaining a healthy body weight. However, ORIJEN dog food has different sources of protein which might not be good for canines with protein and food allergies.
3. BULLY PERFORMANCE Dog Food- Best Food For Bully Pitbulls
This recipe makes an excellent and recommended choice for the American bullies who are finicky eaters. It is worth mentioning that Bully Performance dog food is specially crafted for bully breeds.
Moreover, the leading ingredient is premium-quality meat protein sources in order to help develop Bully's lean muscles. The most noticeable feature is that it does not contain soy, wheat, corn, corn gluten, or by-products. The recipe is extremely palatable so, American Bully will surely love it. Also, it's considered the best dog food for Pitbulls to gain muscle.
The Bully Performance dog food is formulated to be nutritionally healthy and complete so pet parents can ensure that their beloved American bullies are getting all the minerals and vitamins they need in order to stay happy and healthy.
User Experience:
According to the American Bully owners, this recipe is very delicious and their four-legged mates love it. They eat way less food & are putting on lean mass. Many other buyers have commented that this is the best product every American Bully owner can get, costs a little more but positive changes will be visible in the canine's health.
4. Nulo Freestyle Dog Food- Best Dog Food For Bully Breeds
The last product on this list is offered by a well-known brand, Nulo Freestyle is carefully packed with premium-quality and safe ingredients providing 80% of the protein from different meat sources & an overall 30% ratio of protein.
No doubt, it is costly but the leading ingredients are menhaden fish, turkey meal, and deboned salmon. Furthermore, it has additional turkey & apart from grains, a wide range of dry foods have been added such as lentils, chickpeas, sweet potatoes, and peas.
With such a higher rate of healthy protein, gathered mainly from meat sources & supported by different chelated minerals and vitamins, the Nulo Freestyle dog food is definitely a winning combination for American Bullies.
User Experience:
According to the buyers, giving the pups a proper start in life is important to ensure that they will be healthy and safe for a long time. And, the Nulo Freestyle works on the same i.e. diet is a vital building block. Many buyers have recommended the Nulo Freestyle dog food to American Bully lovers.
Buying Guide: Best Dog Foods for American Bully
Three top-selling products have been reviewed above along with their advantages & side effects. Hopefully, the shared information will help American Bully lovers to select the best and top-quality product. However, all those prospective buyers who are still looking for the essential ingredients that have to be included in the diet of American bullies then, this buying guide will help them.
What to Look for In the Diet of American Bullies?
If pet parents want to ensure that their American bullies get the right diet & nutrition then, the following criteria will serve the best purpose: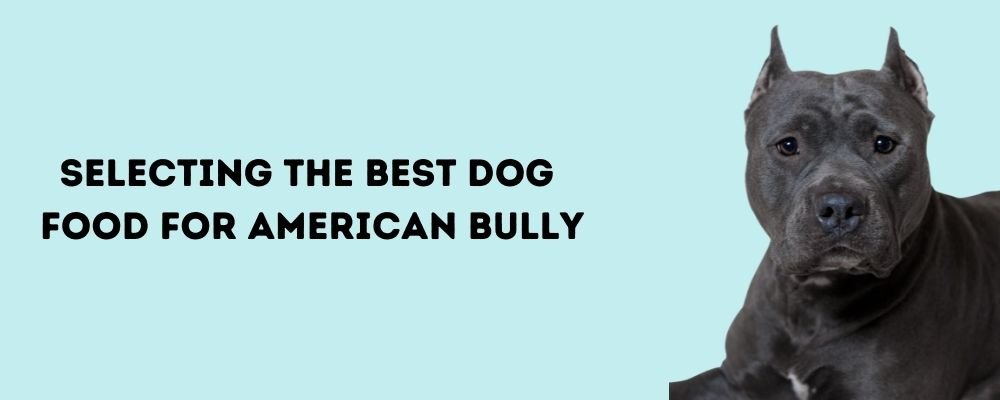 Look for the food that contains meat or form of meat. Moreover, healthy sources of fat and proteins are important
The inclusion of vegetables, fruits, and whole-grain is also necessary to make it more nutrient-rich diet
It should include supplements of vitamins and calcium. Moreover, the addition of omega fatty acids is great for the healthy skin and coat of American Bullies.
Ingredients to Avoid:
Also most of the American bully food allergies are caused by different factors which are mentioned below:
Meat by-products
Unnecessary additives
How Much Should Pet Owners Feed their American Bullies in a Day?
The feeding patterns & amount usually varies according to the weight, activity levels, and age of the American bullies. Usually, feeding them three times a day is recommended.
Verdict
In the end, it can be concluded that choosing food items for American bullies is a very critical decision to make. It is advised to do a lot of research before selecting any food. Apart from this, pet parents can also take advice from a vet or animal nutritionist. Eventually, what pet parents decide that will only matters, so it is better to choose wisely.