When it comes to the guard dog breeds in the world, Doberman is recognized as one of the best. Doberman pinscher is a medium-sized dog breed that is famous for its sleek and strong muscular build & undeniable loyalty. Being a Doberman owner simply means having a protector and best friend for life.
However, Dobermans are also prone to different health issues such as sneezing which pet parents can avoid by simply providing them with a proper, healthy, and high-quality diet. It is vital to mention that Doberman is better off with the right training, daily rigorous activities and training to keep them engaged both mentally and physically.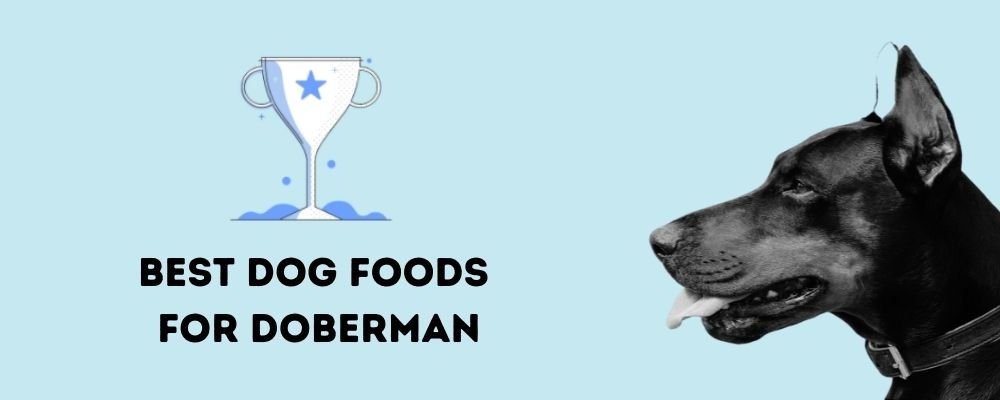 Generally, Doberman is a healthy and active breed but as Doberman holds the qualities of being a working dog, it is important to keep a keen track of its healthy lifestyle.
In order to pick the best dog food for Doberman, pet parents should do a lot of research. In this article, prospective buyers will be facilitated with the most useful information about Doberman and how to take care of them properly.
Breed's Overview:
Doberman is a mixture of a few dog breeds including German Pinscher and Rottweiler. They were initially recognized as guard dogs also used for USA secret service because of their intelligent and strong athletic bodies. Apart from that, Doberman is also very friendly making it a good family pet. Their breed size is large ranging from 61 to 100lbs.
They have slender muscular bodies normally seen in black, red, blue, and fawn-colored coats. They have dark and observant eyes with brown splashes over the eyes. Other signature traits of Dobermans are:
Highly courageous and intelligent
Easy to train and groom
Energetic and playful
Common Health Issues in Doberman Dogs:
Luckily, Doberman's are not prone to allergies but they can suffer from other diseases. If you have a Doberman as a pet or looking forward to keeping one, you should recognize some key health issues found in Dobermans:
Dilated Cardiomyopathy
Chronic Active Hepatitis (CAH)
Hypothyroidism
Canine Hip Dysplasia (CHD)
Bloat
Wobbler Syndrome
What Type of Food Items do Doberman Dogs Eat?
Dobermans come in the category of large dog breeds so it makes it obvious that they need a healthy and balanced diet for their wellbeing. The most important ingredient in the Dobermans diet is real meat.
An adult dog needs almost 26-30% of protein in their diet for muscle building. They need a good quality diet that is enriched in nutritional values to fulfill their dietary needs. Cheap dog foods sometimes lack a few ingredients that are essential for your dog so always look for the complete pack of nutrition. Also as compared to Australian Sheperd, they need more quantity of food.
Reviewed: Best Dog Foods for Doberman Dogs:
Every pet dog owner wants the most appropriate food for his/her pet. For that purpose, the exploration of the best dog foods among several options might become a troublesome task.
Image
Title
Price
Prime
Buy
Purina Pro Plan High Calorie, High Protein Dry Dog Food, Sport 30/20 Chicken & Rice Formula - 48 lb. Bag (Packaging May Vary)

Prime

Buy Now
Wellness Complete Health Natural Dry Large Breed Dog Food, Chicken & Rice, 30-Pound Bag

Prime

Eligible

Buy Now
Solid Gold - Wolf King Bison and Brown Rice Recipe with Sweet Potatoes - Natural Adult Dry Dog Food - 24 lb bag

Prime

Eligible

Buy Now
Product prices and availability are accurate as of the date/time indicated and are subject to change. Any price and availability information displayed on [relevant Amazon Site(s), as applicable] at the time of purchase will apply to the purchase of this product.
Prices pulled from the Amazon Product Advertising API on:
If you are facing a similar issue, the following section will ease your difficulty by giving the detailed reviews of 4 top-picked dog foods available.
1. Purina Pro Dog Food-Best Food For Doberman Puppies
Made with real chicken and rice, this nutritious product can be your number one choice. This formula contains 30% proteins that are quite sufficient for an adult Doberman's muscle care.
This also contains 20% of fat for a healthy and shiny coat. The inclusion of amino acids helps these dogs in the nourishment of their muscles, this will keep them very active during exercises.
As Dobermans are active and working dogs, this delicious sports performance formula is a complete mixture of all the essential ingredients for your dog's healthy activities. In short, if pet parents want to feed their beloved Dobermans a food that they can find in many big box stores then, Purina Pro dog food is surely the recommended one.
User Experience:
Many pet parents have found the Purina Pro dog food very beneficial for Dobermans. According to them, Dobermans loved the taste & became very active. Altogether, pet owners are getting positive results after using the Purina Pro dog food.
2. Wellness Complete Dog Food-Doberman Pinscher Dog Food
Another highly recommended product that comes under the category of the best dog foods for Dobermans. This healthy formula is made up of chicken, rice, peas, and oats.
These different ingredients in one formula simply indicate that this food product contains all essential nutrients. High-quality proteins and wholesome grains help Dobermans to build strong muscles.
The antioxidants present in it makes the immune system strong. Omega fatty acids improve the shine and health of the dog's coat. For your Doberman's healthy heart, glucosamine and probiotics are also present in this food.
The producers of this product ensure that all the ingredients are of fine quality and are made in the USA.
User Experience:
The majority of pet parents exceptionally loved this dog food as it has solved many of the health problems being faced by Dobermans. Other buyers have commented their beloved Dobermans like the taste of Wellness complete dog food.
3. Solid Gold Dog Food-Adult Doberman Pinscher Food
So, when the 1st two ingredients are ocean fish and bison meal than, pet parents can rest assured that they are dealing with a regular and locally available dog food, & solid gold dog food is surely anything but that.
This amazing and delicious dog food contains a wide range of premium-quality vegetables and fruits inside. Pet parents can find apples, watercress, blueberries, cranberries, spinach, & more in every package along with different omega-rich oils.
I would like to say that Solid gold dog food is a great food & one that must give the Dobermans plenty of essential nutrients.
User Experience:
According to the buyers, there is accumulating evidence that grain free foods might have negative long-term impact on canine's health. But it is difficult to find good-quality dog food with grain, Solid Gold does it. Seems a good chunk size, crunchy and flavorful.
4. Eukanuba Dog Food-Doberman Puppies Food
This another amazing product is a chicken-flavored delicious formula that has all the required ingredients your Doberman would need.
A well-balanced mixture of chicken, cornmeal, and whole-grain will give complete nutrition to your adult Doberman. Proteins promote good muscle development along with joint health.
Another beneficial inclusion is DHA and vitamin E, this makes your dog active and supports a healthy brain.
User Experience:
According to the buyers, this food product is quite appropriate for their Dobermans because it gives complete nutrition as per his requirements with extra added minerals. Many customers are happy that their Dobermans do not have allergies anymore.
Buying Guide: Best Dog Foods for the Dobermans
Every dog has different dietary requirements, selecting the best food for Doberman that follows the buyer's criterion can be quite difficult.
The above-reviewed products can be of great help as they are one of the best products. However, if pet parents are still looking for more information about their Doberman's dietary needs, the following buying guide will surely serve the purpose.
What to Look For in the Diet of Dobermans?
Generally, Dobermans are highly energetic so they need more calories as compared to other dog breeds. A huge portion of their calorie intake must be of proteins along with other ingredients.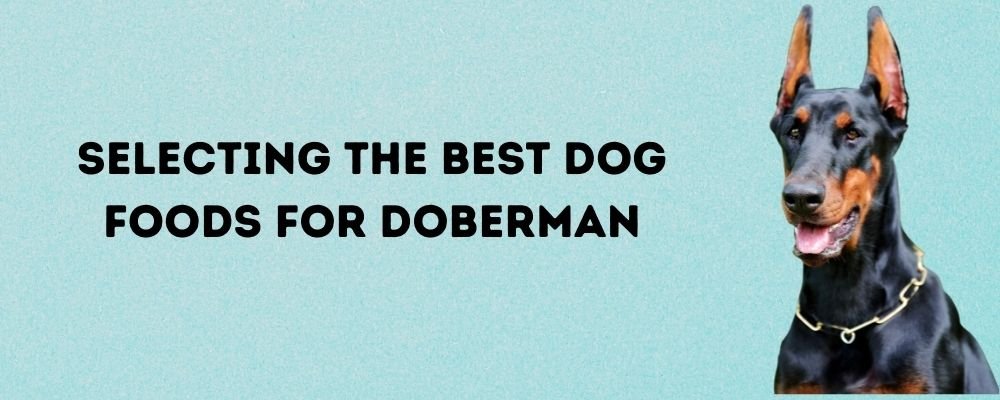 If pet parents are getting ready to purchase food for the Doberman, take a look below to make sure the following criteria are present in the chosen product:
As mentioned, Doberman's are prone to different chronic diseases so always select the brand that uses high-quality food ingredients. A large percentage of high-quality protein-containing food is always preferable.
Good fats, omega-3 and omega-6 are important for their healthy coats.
Complex carbohydrates are a vital ingredient for your Doberman's complete nutritional profile.
Ingredients that should be avoided:
Meat by-products
Low-quality fillers
Artificial preservatives
Corn and grains in case your Doberman is allergic to them
How Much Should Pet Parents Feed Their Doberman Dogs?
The feeding pattern depends on the dog's weight, age, and daily activity. More active Doberman needs more protein. Typically 2.5 to 3.5 cups of good quality dog food, two times per day are enough. However, to avoid bloating in Doberman you can give small portions several times a day.
What Kind of Treats Should Pet Owners Feed Doberman Dogs?
Several healthy items can be considered tasty treats for Dobermans, pet parents can treat their Dobermans with pumpkin, carrots, and fresh vegetables.
Conclusion:
As stated earlier, Dobermans are one of the most unique and useful dog breeds in the world. To help utilize their potential, a healthy diet and proper nutrition are really important. This article covers all the useful information pet parents need about the Doberman as well as reviews of some of the best dog foods out there. Proper care will surely aid your Dobermans to live a happy and healthy life.