Owning a canine is surely an amazing experience however, it also demands a lot of patience and hard work from pet parents.
And obviously pet parents will never want to see their beloved mates suffer while being ready to do anything in order to keep them healthy and safe. Due to certain reasons some illnesses are curable while others are not like some dog allegories could be cured by food.
Fortunately, pet parents can cure anal gland problems by simply treating them on time. This issue is quite common in dogs.
One of the best and recommended things to do for anal gland issue is to give canine's high fiber diet. This type of food will help canines excrete firm poop thus, making anal glands function properly while offering the required lubrication.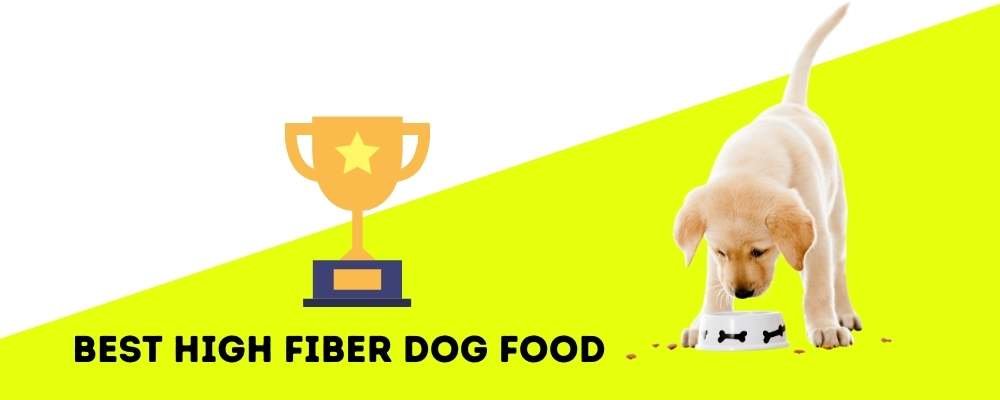 Sometimes pet owners do not realize that their canines are having problems with the anal glands & some of them do not even know that the canines have anal glands.
Food allergies or food hypersensitivities are considered as the major reasons behind anal gland problems in canines.
Read More: Best Dog Brush For Short Hair
Continue reading the article to learn more about the basic nutritional needs of dogs & to receive few tips for selecting the best high fiber dog food.
What are the Anal Gland Problems in Dogs?
The dog's anal glands can cause a lot pain when they get infected or blocked. If left untreated, the infected and impacted anal glands can become abscessed & the abscesses might require drain placement and surgical repair.
Well, firstly I would like to tell pet parents what exactly anal glands or even anal sacs are.
To be precise, anal glands are not even gland. In fact, anal glands are sacs & every sac contain sweat glands and oil. The dogs have 2 anal glands directly near the opening of anal.
The anal glands can empty completely when canine poops. However, when these glands express, unpleasant or sudden change can occur in the canine's odor. Pet parent will notice that something is wrong when they see their furry friends:
Having difficulty standing or sitting
Sitting uncomfortably
Difficulty in pooping
Biting or licking the butts
Scooting
As long as the tubes in the dog's anal glands are fully open, the canine will be absolutely fine. However, with the passage of time, this chronic disease can cause blockage in the tubes. Therefore, high fiber should be given to the dogs.
How Does High Fiber Diet Help Cure Anal Gland Problems?
Veterinarians might suggest pet parents to buy high fiber food items for canines who are suffering from anal gland problems. It is worth mentioning that a fiber rich diet will help dogs to have firm bowel movements.
In short, high fiber diet help anal glands issues by causing canines to produce poop that is larger and firmer.
Likewise, this type of diet will also help create a more functional and healthier microbiome in the dog's gut while boosting the immune system.
Reviewed: Best High Fiber Dog Food Anal Gland Problems
The dog's anal gland problems can cause some terrible smells. What majority of pet parents do not understand is that it is necessary to select the best high fiber dog food to help treat anal gland problems to keep the canine's anal glands working properly.
| Name | Brand | Ratings | Price |
| --- | --- | --- | --- |
| 1. Hill's Science Dog Food | Hill's | ⭐⭐⭐⭐⭐ | |
| 2. Glandex Dog Food | Glandex | ⭐⭐⭐⭐⭐ | |
| 3. Pet Natural Chew Bars | Pet Natural | ⭐⭐⭐⭐⭐ | |
In this article, pet parents will know more about the vet recommended high fiber dog foods for anal gland problems.
1. Hill's Science Dog Food- Dog Food For Anal Glands
The 1st product on this list comes from a well-known brand & this brand has also been recommended by vets for years.
This amazing and delicious recipe helps dogs maintain an ideal yet healthy weight. By being an animal protein, chicken is the 1st ingredient without any meat by products.
The Hill's science dog food has all the essential vitamins & minerals along with omega 3 & 6 fatty acids. Due to this, it is considered as a great option for small canines with anal gland problems. Also, it is the best Food to help dog express glands problems.
The food is good at boosting and supporting the canine's immune system. So if pet parents are looking for a premium-quality and nutritious dog food that will keep the dog's anal gland issues at bay then, they should consider buying Hill's Science dog food.
User Experience:
According to the pet parents, this product is worth buying due to a number of good reasons. They have declared this food as a healthy and well-balanced alternative to regular dry food. No doubt, a great product for all those canines who are suffering from anal gland problems.
2. Glandex Dog Food-Low Fat high Fiber Dog Food
When it comes to dog's anal gland problems, the Glandex food is surely a way to go in order to keep the anal glands healthy.
Because Glandex targets the underlying reasons of anal gland problems while treating them properly for dog's good health and well-being.
Moreover, Glandex soft chew is considered a highly effective & tested solution for anal gland disorders therefore, the majority of vets also recommend this.
With key ingredients such as pumpkin seed, this dog food promotes healthy and natural empting of the canine's anal glands while supporting seasonal allergies and digestive health.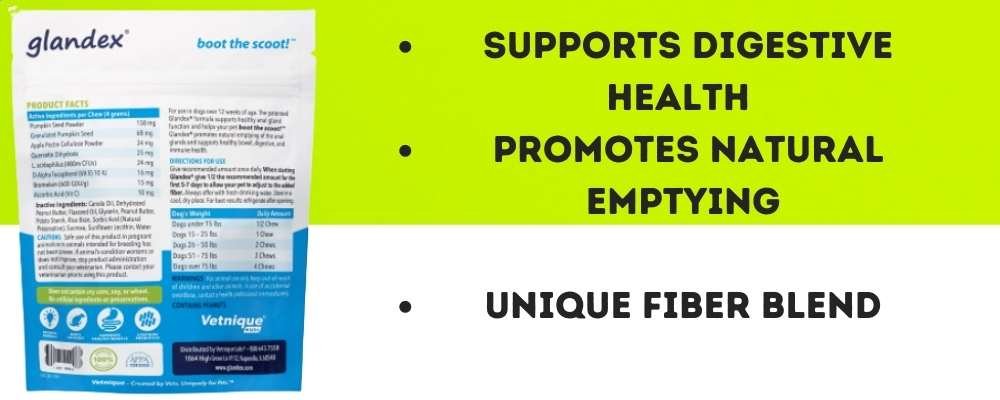 It is vital to mention that Glandex's original formula consists of all-natural ingredients for keeping the anal glands healthy including digestive enzymes, omega fatty acids, fiber blend, prebiotics and probiotics.
User Experience:
The majority of pet parents have bought the Glandex dog food & according to them, this is a promising formula for dogs. It always helps firm up the stool. Some pet parents have commented that this is a life changing product for canines with anal gland problems thus, highly recommended.
3. Pet Natural Chew Bars-Dog Food With High Fiber Content
These delicious and healthy scoot bars comes under the category of the natural fiber supplement especially designed to support dog's fecal volume & healthy anal gland function.
Furthermore, the scoot bars taste great, easy to digest, & quite gentle on the canine's digestive system as compared to other commonly available fiber products.
I would like to share that the formula contains Larch tree extract, which has been proved to promote beneficial bacteria in the dog's digestive system thus, maintaining the overall health and well-being.
Apart from this, the bacteria also help to manage dog's smelly fecal matter. Likewise, the active & 1st ingredient in the bars are patented pumpkin blend along with larch tree extract,
Maltodextrin, and pumpkin powder. In short, pet parents can always feel stratified about offering the Scoot bars to their beloved mates due the above-discussed features.
User Experience:
According to the dog owners, the product worked & right away. They further said, the dogs seem to do less scooting after consuming these bars. However, few buyers have said that the bars are little pricey however, as compared to other options they work instantly.

Buying Guide: Best High Fiber Dog Food Anal Gland Problems
There are different ways of alleviating the dog's anal gland problems however, it is advised to pay attention to the below-discussed factors before making the buying decision.
How to Select the Best High Fiber Dog Food for Anal Gland Problems?
Whether pet parents are looking for food that can address a certain nutritional need or they are only searching for a healthy option, they should try to give the canines premium-quality food items.
Generally speaking, it simply means pet parents have to consider the following factors.
Opt for a formula that list protein as the 1st ingredient
Food should be free of artificial colors or flavors
Avoid food items with meat byproducts or unidentified meat
Select a recipe with high fiber content, prebiotics & probiotics.
what dog food is high in fiber?
what is a good source of fiber for dogs?
how much fiber should be in dog food?
Final Thoughts
In the end, it can be concluded that selecting the best high fiber food might feel overwhelming however, it is actually a quite easy task.
It is recommended to consider the canine's health status while selecting the food. Canines who suffer from anal gland issues often feel extremely uncomfortable & show signs such as scooting the hips across the floor in order to help release the pressure.
The best thing is that, there is always something pet parents can do for preventing anal gland problems in the dogs by simply feeding them with the best fiber rich diet. It is well-known fact that a healthy digestive system that allows the canines to have regular and smooth bowel movements is important to promote anal gland health.
However, if pet parents still suspect a problem, they should consult a vet right away to get the required treatment.