Breed's Overview:
Great Danes are considered as the largest dog breed all around the world. It is important to share that adult male Great Danes grow upto 31-32" & females grow around 20-30".
Likewise, when it comes weight adult males Great Danes can weigh somewhere between 141-175 pounds & females weigh around 111-140 pounds? Irrespective of the huge stature,
Great Danes are very friendly, lovable, & might be a bit reserved at times. Due to their dependable and patient nature, Great Danes make great companions.
Sadly, the life expectancy of this dog breed is just 8-10 years. Owning a Great Danes comes with a huge responsibility. One important factor that pet parents should consider is that Great Danes grow quite fast from puppy to adult. Consequently, planning the diet beforehand will serve the best purpose.
Read More: Best Dog Food for French Bulldogs
It is necessary to select the right kind of food for Great Danes as they are prone to few serious health issues. Furthermore, in order to sustain the visually appealing build of the Great Danes, they need premium-quality proteins, be it animal or plant protein.
Apart from this, the breed needs reliable sources of carbs among other essential nutrients to help maintain healthy body weight.
Do Pet Parents have to Take Special Considerations with Respect to Diet for Great Danes?
Yes, pet owners should consider the dietary requirements of Great Danes before picking the dog food. The best practice is to plan out the hunt with below-given factors:
Careful monitoring
The recommended amount of caloric intake
Health aspects
Weight considerations
Apt levels of the exercise
What are the Common Health Issues in Great Danes?
The lifespan of Great Danes is very short as compared to other dog breeds. So, if someone is planning to get Great Dane then, it is advised to be ready to handle possible health issues.
Pet parents should be extremely careful when it comes to maintaining a well-balanced diet while handling health issues. Some common problems are as follows:
Hip dysplasia
Gastric torsion
Osteosarcoma
Dilated cardiomyopathy
Ectropion
Arthritis
Bloat
Wobbler syndrome
Reviewed: Best Dog Food for Great Danes
Pet owners surely do not want to try out any product on their beloved Great Danes. Because of not being fed properly, Great Danes can get sick easily. Therefore, it is necessary to give them the highest quality diet in order to support his overall wellbeing along with growth & development.
| Name | Brand | Ratings | Price |
| --- | --- | --- | --- |
| 1. Royal Canin Dog Food | Royal Canin | ⭐⭐⭐⭐⭐ | |
| 2. Gentle Giants Dog Food | Gentle Giants | ⭐⭐⭐⭐⭐ | |
| 3. Eukanuba Dog Food | Eukanuba | ⭐⭐⭐⭐⭐ | |
| 4. ACANA Dog Food | ACANA | ⭐⭐⭐⭐ | |
The best dog food for Great Danes should be made of good quality animal proteins & healthy fats. Well, to help pet parents find out the optimal diet for their Great Danes, I am going to review the top-selling products currently available.
1. Royal Canin Dog Food- Best Food To Feed Great Dane Puppy
This famous brand is considered a golden standard regarding the best dog foods. Likewise, the brand has excellent reputation & gives a huge range of canine food that are especially designed to cater to the needs of different canine breeds.
So, all those pet parents who are looking for the best dog food for Great Danes should consider buying Royal Canin dry dog food. The recipe is formulated to meet the nutritional requirements of purebred Great Danes around 24 months & older. Also it best dog food for great danes with sensitive stomachs.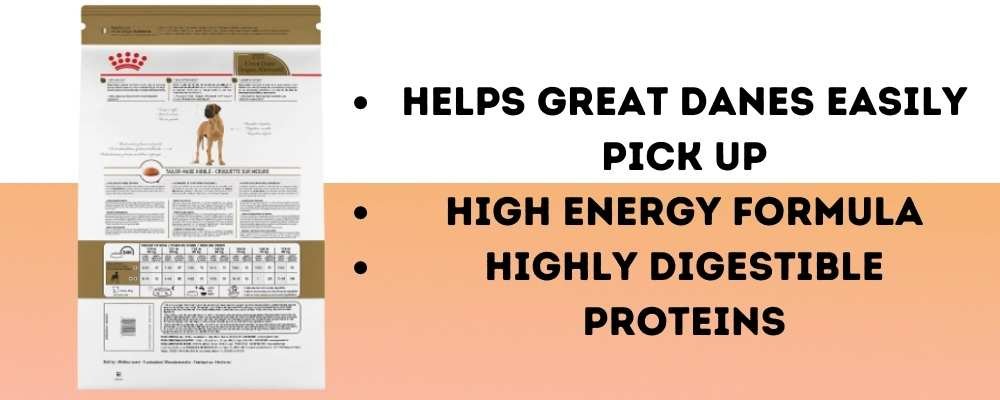 The food help support the dog's digestive health with completely digestible proteins along with specific fibers to promote optimal quality of stool. In short, it is a way to go product because it gives a balanced and complete diet for Great Danes.
User Experience:
According to pet parents, the best thing about this product is that it is designed with careful observation of nutritionists and vets. Many others have commented that this delicious dog food is definitely an ultimate source of ample energy for Great Danes.
2. Gentle Giants Dog Food-Great Dane Dog Food
According to the brand's motto, there is nothing more valuable than life. So, with Gentle giant's recipe pet parents can give Great Danes balanced and complete nutrition at each meal to help them live long and healthy lives.
It is a great cuisine & complete nutrition for Great Danes. It is vital to mention that this specific recipe is made with oatmeal, eggs, brown rice, fish, chicken, non-GMO vegetables & fruits. If your dog is losing weight it's best dog food for great danes to gain weight.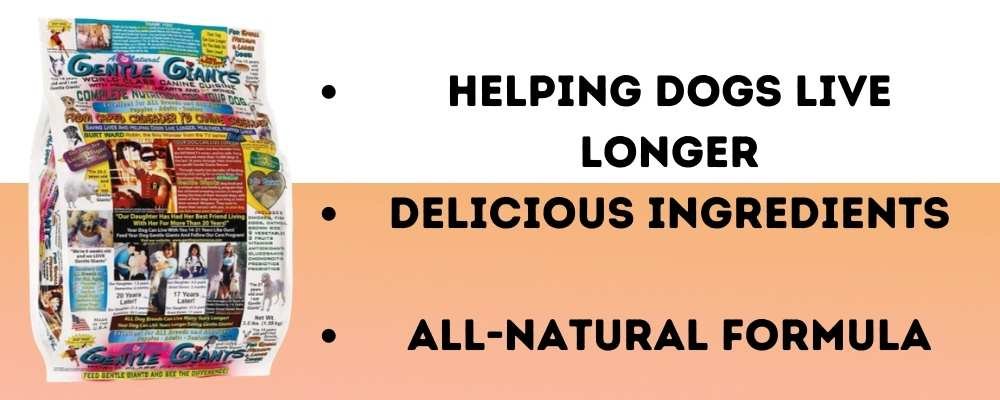 The noticeable feature is that the food is non-greasy & contains no wheat, soy, corn, & no artificial colors or preservatives. In fact, it is a perfect blend of minerals, essential vitamins, & antioxidants for a nutritious meal that is vet approved.
Moreover, Gentle Giant is an exclusive food that Great Danes need for their entire lifespan.
User Experience:
Many pet owners have bought this dog food for their Great Danes and have recommended it to others as well. According to them, they particularly love the simple yet healthy range of all-natural ingredients. No doubt, the food helps ensure that Great Danes have all the needed-energy they need to lead a healthy life.
3. Eukanuba Dog Food-Best Treats For Great Danes
Just like Royal Canin, Eukanuba is usually considered to be the best and highly recommended brand. It has a huge range of healthy products available & the brand's adult dry dog food is very famous & well-regarded.
I would like to share that the recipe is chicken-based however, it contains a lot of vegetables and grains. It has been especially designed after considering the dietary requirements of large active canines just kike Great Danes.
Furthermore, the product is available in 2 different sizes and recommended for Great Danes who are 15 months or even older. The Eukanuba dog food helps support sustained levels of energy for active lifestyles along with optimal levels of carbohydrates and fats.
User Experience:
According to Great Danes lovers, the Eukanuba dog food gives extra minerals & healthy ingredients that large canines need in order to keep healthy joints without needing to buy other products. Few buyers have said that no doubt the product is expensive but it still gives a great value for money at current price range.
4. ACANA Dog Food-Best Dry Dog Food For Great Danes
This healthy and delicious freshwater fish recipe is packed with proteins that come directly from blue catfish, rainbow trout, & yellow perch. The food gives protein two sources i.e. from meat and fish.
It is worth sharing that farm raised meats & free-run poultry are surely the perfect combination for this dog breed.
With rich and healthy inclusions of premium-quality animal ingredients, this product used bone, cartilage, organs, meat in order to deliver complete nutrition to Great Danes naturally.
The ACANA dog food is completely grain-free with no tapioca, potato, and gluten.
User Experience:
Many Great Danes owners have recommended the ACANA dog food. They have said that this brand is consistently the best and safest one currently available in the market & Great Danes love it. Few buyers have said that this food really helps Great Danes to clear up the skin issues & itching.
Buying Guide: Best Dog Food for Great Danes
When it comes to selecting the best dog food for Great Danes, choices are unlimited. With numerous different brands out there, it can be quite tough to pick the best one.
Feeding Great Danes premium-quality and healthy dog food is important due to their potential health problems and unique physiology. Therefore, the selected product should contain all those ingredients that are especially targeted towards the nutrients they need for those health problems.
How to Select the Best Dog Food for Great Danes?
While deciding on what should be fed to Great Dane, it is advised to consult an experienced vet. Undoubtedly, a skilled vet will tell pet owners about the certain health risks that usually come with the Great Danes. Pet parents should consider the following things:
Try picking the food items that are especially designed for easy & gradual digestion
Check the labels carefully
Feed Great Danes with antioxidants rich in all natural ingredients. Vegetables and fruits are the best sources of different dense nutrients and vitamins.
Avoid foods with artificial colors and flavors
Ingredients to Avoid:
Dairy
Onions
Macadamia nuts
Chocolate
Table scraps
Raisins and grapes
What to feed a great dane puppy?
When it comes to feeding your new Great Dane, there are a lot of things you need to think about. First off, you'll be happy to know that Great Danes have a relatively large appetite and tend not to overeat like other breeds. The recommended daily intake for an adult is 4-10 cups of high quality dry dog food (with 30-45% protein) each day, but most puppies will take 2-4 cups per meal or even less. Next, it's important that all the ingredients in your dog food are all natural and organic.
How much should a great dane eat?
Every day, dogs are fed a specific amount of food. These specific amounts vary depending on the dog's physical size and sex. We know one thing for sure: a great dane is supposed to eat more than the average dog. So let's examine exactly how much of what he eats every day and how much is too much!
A great dane is supposed to consume at least two cups worth of dry food twice daily. A healthy adult will require approximately six cups per day.
In addition to this, a great dane should be given 1.5 cups of water per day. Remember to offer your pet fresh water throughout the day as old water might not be good for him.
Great Danes are very active dogs and therefore they need even more food than other dog breeds. A great dane puppy should be fed a high protein diet for faster growth. Ideally, a puppy is supposed to consume 30 calories per pound of his body weight every day in order to grow up strong and healthy.
Final Thoughts:
In the end, it can be concluded that in developed countries such as America, it is quite rare to see nutritional defects in canines, especially those that are fed with premium-quality commercial canine food.
Many nutritional issues occur in canines that are fed with imbalanced homemade foods. Moreover, there are several dog foods that pet parents can purchase for their precious Great Danes & some of them will surely be perfectly well. But when it comes to selecting the dog food for Great Danes, it is advised to do a lot of research.
Hopefully, the above-shared reviews have provided readers with the much-needed help in this respect.