It is never easy to handle the dogs who are prone to allergies and yeast infections. Canines can be allergic to grass, mold, pollen, dust, fleas, & yes even the food items that pet parents feed them. Every loving and responsible pet parent will always want to see the dogs happy and healthy for a long time.
But as dogs are more vulnerable to allergies and yeast infections therefore, it is important to take some precautionary measures beforehand.
The majority of dog lovers do not even know that starchy items in large quantities can give the dogs yeast infection along with other problematic allergic reactions. Thus, it is necessary to focus on what canines eat throughout the day.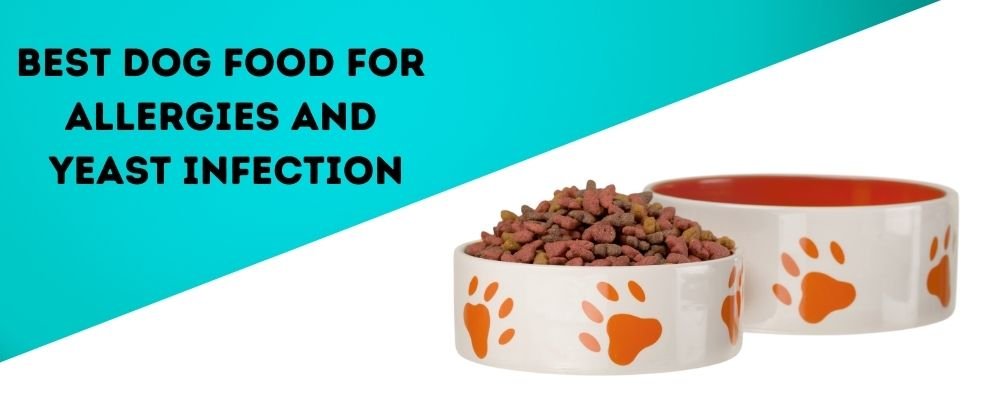 Moreover, it is a known fact that if your beloved pet has food sensitivities, allergies, and intolerances, life could be very miserable for you & your pup. Due to different reasons, sensitivities and allergies can trigger a sudden immune response thus, eventually resulting in sneezing, itchy skin, & digestive issues.
It is vital to note that if the canine has started tilting the head & rubbing the ears excessively then, it might be a yeast infection. Golden Retrievers, Basset Hounds, Cocker Spaniels, Poodles, Chihuahua, Yorkies, Labrador Retrievers & other loose ear canines tend to be more prone to both allergies and, yeast infections.
The best practice is to visit a skilled vet to rule out an underlying cause, after visiting the vet, pet parents may be advised to adjust the dog's food.
Read More: Best Dog Food for Chihuahua
As mentioned previously, food intolerances and sensitivities are usually the real culprit especially for yeast infections and also makes it hard for them to poop. Nevertheless, changing the canine's food might not be an easy option particularly if pet parents also have to avoid allergens.
Well, there is no need to worry about those annoying allergies and yeast infections anymore as this article is all about the best dog foods that will help reduce the symptoms of both. The best anti-allergy and anti-yeast food items can make a huge difference in dog's life.
Likewise, there are some specific foods that pet parents should add to the dog's diet while avoiding others.
Understanding Allergies & Yeast Infections in Canines
Although, just about any canine could suffer from allergies and yeast infections, some breeds are at high risk. Before moving ahead, I would like to mention that yeast together with some other infection causing fungi and bacteria are present naturally in the dog's digestive tract & skin.
But, as they are quite low in quantities & few are completely under control of the dog's immune system thus, less harmful. Pet parents should remember that yeast infections spread fast in humid and warm conditions,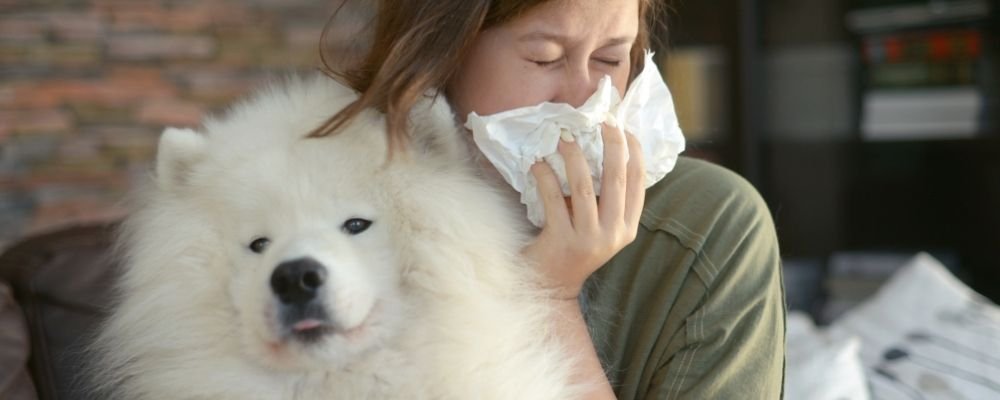 such as in ear & paw, or mostly where the skins are closer to each other. If left untreated, the infections and allergies could get worse while leading to severe conditions such as crusty skin, intense itchiness, & hearing loss.
When it comes to diet, it would be better to avoid carbs. As compared to fats and proteins, both of which are foundational & important nutrients for dogs, carbs are not required. In fact, few of them, such as starch can cause stomach pain. Allergies can be triggered via deposits of dust, pollen, mold, different cleaning products & feathers. Moreover, chemicals like worm & flea treatments should be avoided.
What are the Common Symptoms of Allergies & Yeast Infection?
Yeast infection is scientifically known as Malassezia dermatitis, a skin infection that usually occurs whenever a naturally occurring bacteria namely Malassezia cannot be controlled. Yeast allergies can also occur as infection.
But always remember allergies are mild however, if left unattended, they can cause severe health issues while turning into yeast infection. Some common symptoms that canines could be having the allergies and yeast infection are:
Intense swelling, itching, & skin redness
Brown, yellow, or bloody discharge
Bad odor
Loss of hearing, balance, & hair all around the ears
Flaky and crusty skin around ears
Extreme or recurrent ear infections
It is the prime responsibility of pet owners to learn & master the art of cleaning ears having yeast infection as this will help prevent further issues. Another recommended starting point is to change the diet.
It is worth sharing that the best practice to go about selecting the food for yeast infection and allergies is to simply limit the choices to those foods made from wholesome all-natural ingredients including low starch vegetables, lean proteins, animal-based fats, digestive probiotics and enzymes, among other healthy supplements.
Important Note:
Yeast exclusively depends on sugar regarding survival. It simply means when pet parents limit the intake of sugar they would ultimately be controlling the chances of its rapid growth & vice versa. At this point, pet parents can truly understand the role of best dog for allergies and yeast infection.
What are the Main Components of Best Dog Food for Allergies & Yeast Infection?
As discussed above, the most important thing that should be avoided is the sugar & starch diet. Well, this just a one-sided story, There are some other things that pet parents should consider while searching for the best product to help control allergies and yeast infection.
What Foods Cause Yeast In Dogs?
Starchy vegetables including peas and potatoes
Starchy grains like corn, rice, and wheat
Processed ingredients
Corn syrup with high fructose
On the contrary, the presence of some ingredients can make the dog's diet more effective in order to deal with allergies and yeast infection in a healthy way. These ingredients are:
Animal based fats of premium-quality
Lean, fresh, animal proteins,
Dietary fiber
Fresh fruits
Unprocessed foods
Antioxidants from all-natural sources
Reviewed: The Best Dog Food for Allergies & Yeast Infection
Seeing the precious pups feeling uncomfortable, scratchy, & itchy due to the extremely high content of yeast from different high-grains diets is surely not something pet parents want to do. However, fortunately, just like humans, canines can eat specific food items in order to target health problems.
| Name | Brand | Ratings | Price |
| --- | --- | --- | --- |
| 1.Hill's Science Dog Food | Hill's | ⭐⭐⭐⭐⭐ | |
| 2.Zignature Zssential Dog Food | Zignature | ⭐⭐⭐⭐⭐ | |
| 3.Nature's Recipe Dog Food | Nature's Recipe | ⭐⭐⭐⭐⭐ | |
| 4.Stella and Chewy's Dog Food | Stella & Chewy's | ⭐⭐⭐⭐⭐ | |
| 5.Castor and Pollux Dog Food | Castor & Pollux | ⭐⭐⭐⭐ | |
It is important to mention that by making few important changes in the canine's diet, pet parents can easily control & avoid those annoying yeast & allergy problems.
There are a few amazing products to choose from, all with wonderful health advantages together with the potential to help turn the pup's yeast infections & allergies around.
No doubt, by making few changes and switching to the premium-quality food for allergies and yeast infection in canines, pet parents can expect a noticeable improvement in the canine's overall health and well-being.
1. Hill's Science Dog Food-Diet For Dogs With Yeast Infection
This product holds a top position on the list of the best dog food for allergies and yeast infections as it helps prevent and reduce the canine's yeast infections. I have found different accounts of the Hill's science dog food offering relief within fourteen days.
Moreover, this food dog is highly beneficial for reducing allergies and yeast infections while promoting good digestion, the included prebiotic fiber works wonderfully to get the canine's health & well-being back on the track.
The Hill's science dog food does not have any harmful ingredients such as there is no artificial flavors, colors, preservatives, & chicken by-products.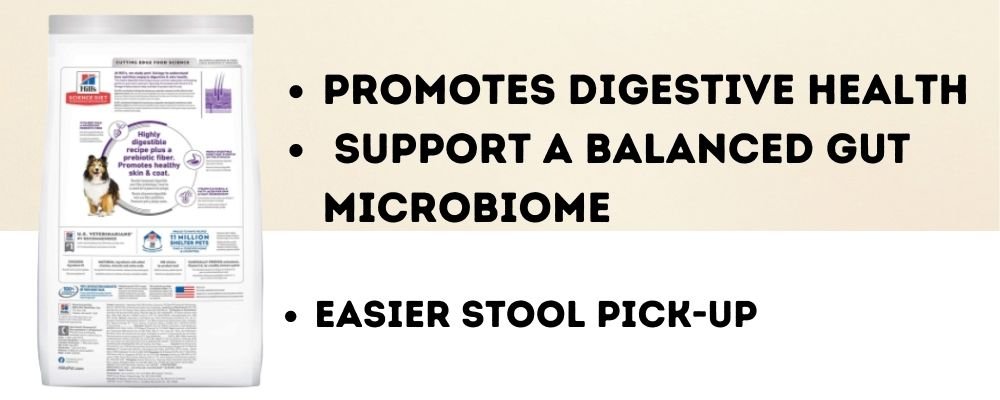 Likewise, this dog food has a flavor & taste that many canines enjoy along with all-natural ingredients to supply antioxidants, minerals, essential vitamins for a well-balanced diet. The best thing is that the food has omega-6 fatty acids and vitamin E for a healthy and shiny skin and coat.
Even though pet parents may have to pay more for this delicious and good-quality dog food, but it will surely give the best value for money.
User Experience:
According to the pet parents, this amazing dog food helps enrich & lengthen the special bonds between pets and people. Many other buyers have commented that Hill's science dog food uses only premium-quality ingredients including salmon, lamb, or real chicken protein. It is indeed a great-tasting dog food while keeping allergies and yeast infections at bay.
2. Zignature Zssential Dog Food -Dog Food For Yeast Allergy
Zignature is not an ordinary pet food brand as it offers super special and delicious recipes in order to address a wide range of health problems your precious mates often battle from including allergies, obesity, itchiness, diabetes, & yeast infections.
Moreover, upsetting ingredients that could have triggered allergies and yeast infections to get worse have been eliminated completely in this formula & unlike the majority of dog foods, the level of protein is comparatively high & from different legit sources such as lamb, duck, turkey & salmon.
Just think about the grain-free ingredients, protein rich formula with antioxidants, chelated minerals, and vitamin supplements that canines need in order to stay healthy and happy. Also It's Starch free dog food best for allrgies.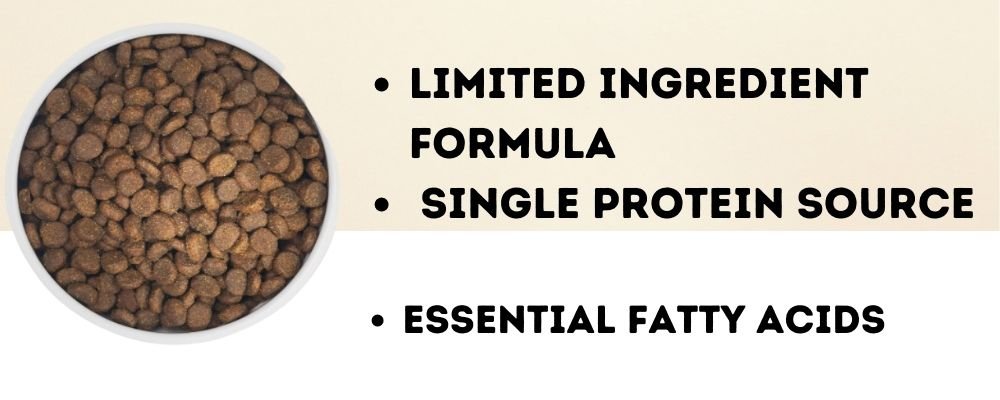 Who would not want this kind of diet for his/her beloved pup? Well, this is truly what Zignature Zssential dog food puts on the table.
It is worth sharing that this dog food contains fibre-rich and low glycemic carbs including wholesome peas and chickpeas. In order to help canines remain healthy and happy, this food has no wheat, corn, diary, soy, & chicken products.
User Experience:
Many dog owners have bought this product and according to them, the brand always stands out in different ways concerning nutritional content and healthy ingredients. Other buyers have commented that this is one of the few dog foods that does not contain chicken and potatoes. While on the other hand, this dog food may not serve the purpose for older canines or canines with liver or kidney issues.
3. Nature's Recipe Dog Food-Low Carb Dog Food Yeast
The best thing about this product is that it is quite affordable as compared to other competing brands. The no 1 ingredient is salmon, with plenty of premium-quality protein.
It is surely a worth buying food for canines who are struggling with allergies and yeast infections. Nature's recipe dog food is made from all-natural, wholesome ingredients.
Apart from focusing on protein-rich salmon for a glowing coat and healthy skin, this delicious grain free food contains low glycemic, high fiber index vegetables including sweet potato and pumpkin.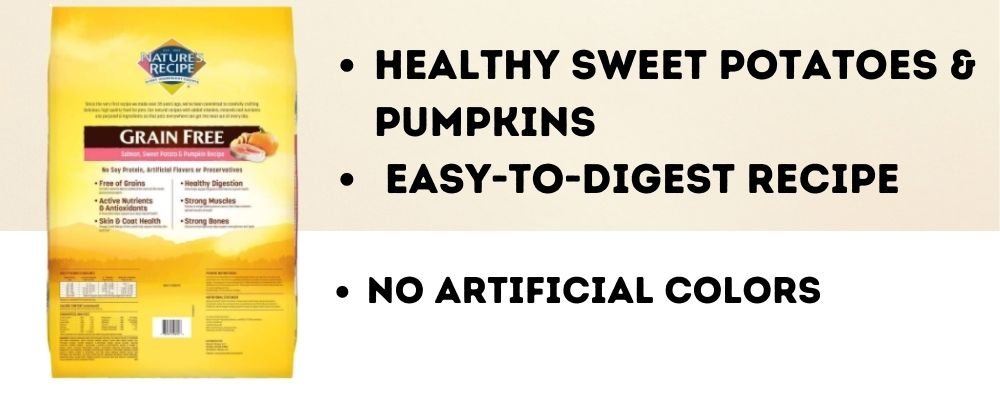 Especially formulated to give quality and well-balanced nutrition, this amazing and easily digestible dog food has a flavor and aroma that appeals to the majority of canines.
In other words, all those pet parents who are looking for a recipe that contains all the vitamins, nutrients, and minerals for fighting allergies and yeast infections, while being easy on the stomach then, do not look further as the best one is right here. However, the only concern is the food's texture which might not be liked by picky eaters.
User Experience:
According to the pet parents, this dog food is good at treating allergies and yeast infections. It is a little higher priced however, well worth it. While some other buyers have commented that this is the only dog food that canines love to eat without having any kind of itching and skin allergy.
4. Stella and Chewy's Dog Food-Dog Food For Yeast Problems
This is truly a savory, 100% complete & well-balanced nutrition that will help dogs overcome fungal & yeast infections. Moreover, this dog food is complete, freeze-dried, balanced and raw which is simply amazing as it gives most favorable raw nutrition along with different active ingredients in order to improve the dog's body function.
The food is also enriched with premium-quality anti-oxidants including biotin, Vitamin E, and linoleic acid to help support the immune system & fight infections and allergies.
The included coconut flour helps treat various symptoms of allergies and yeast infections, relieves itchy skin, makes the dog's coat shiny, and improves digestion & increases levels of energy.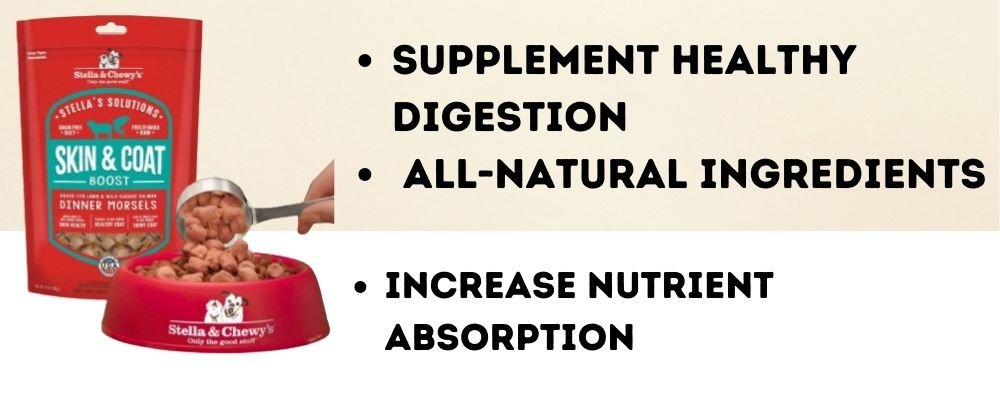 The best thing about Stella and Chewy's dog food is that, it does not contain allergy triggers for instance, artificial flavors, colors, corn, soy, preservatives, grain, gluten, and wheat.
In short, it is an all-in-one supplement & feeding solution that always helps with indigestion relief in canines, overall gut health, & digestive boost while adding the advantages of the raw nutrition to the pet's diet in one simple and convenient recipe.
User Experience:
Many pet parents have recommended Stella and Chewy's dog food and according to them, the product is a bit costly, but for healthy protein and freeze-dried sources, the price is not that bad. Other buyers have commented that Stella and Chewy's is one of the best natural dog foods currently available due to quality ingredients & food safety.
5. Castor and Pollux Dog Food-Anti Yeast Dog Food
A highly recommended product for all those who are looking for an organic, clean, and nutrient-packed recipe for stratifying the dog's cravings while helping him/her to fight common reasons behind skin disease & ear infection.
It is vital to mention that this delicious recipe is made with around 95% USDA certified organic & healthy ingredients, which is absolutely great as it gives the dogs with the best ways of fighting yeast infections and allergies.
Furthermore, the included organic chicken gives a boost of extremely digestible protein along with essential nutrition including minerals, fatty acids, and amino acids.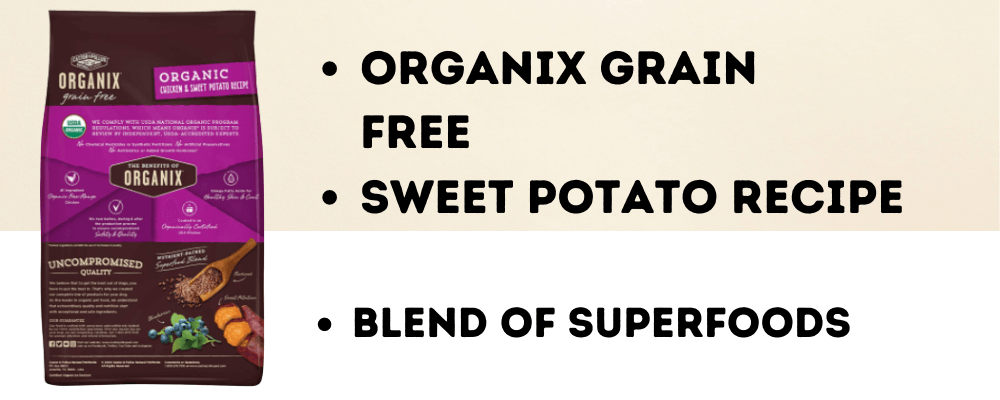 The castor and Pollux dog food is enriched with tasty coconut oil, a great super food that will help fight yeast infection while improving coat, skin, & digestion health.
I truly like the addition of organic flaxseeds, a powerful source of omega 3 fatty acids to help fight ear and skin infections. Another great benefit for canines struggling from yeast infections and allergies is the presence of pro and prebiotics.
User Experience:
According to the dog owners, they have been feeding the dogs with castor & Pollux dog food for several years. Healthy and organic dog food that pets love to eat. Many buyers have commented that this is the only recipe they have found with power-packed ingredients to help fight allergies and yeast infections.
Buying Guide: Best Dog Food for Allergies & Yeast Infections
After reading thoroughly about the top 5 products for the best dog food for allergies and yeast infection, readers still might want additional information or even have some questions.
Here, I would like to share that several factors can affect the canine's tendency to suffer from uncomfortable allergies and yeast infections. So, in this section of the article, I would like to share some worth reading information that will help pet parents make an informed decision.
What should be Considered While Buying the Best Dog Food for Allergies and Yeast Infections?
It is important to note that dog food for yeast infections should have some basic features. Here is what should be kept in mind while selecting the best one: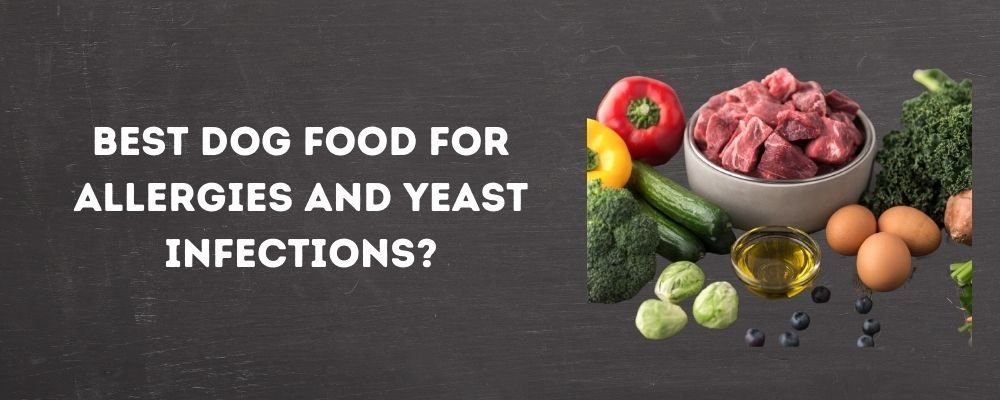 Meal vs. Meat
Sometimes when dogs have allergies or yeast infection, it is not what pet parents think. If canine is allergic to a specific kind of meat, such as it might not be a meat however, the meal that it contains as well.
When pet parents look at the included ingredients, they should see a vegetable or meat listed as the 1st ingredient & nowhere on this list should it have a bone meal or chicken meal for allergy prone canine.
Bone meal or meat meal are terms that are used for describing the whole process in which bone or meat cooked, sifted, ground, sterilized, and defatted.
That's a little extra handling that leaves the edibles open to different kinds of infection and allergy triggers. So, if the canines are struggling, the pet parent should try to avoid all those firstly.
Important Note:
When pet parents put the canines on the yeast free diet then, they should try to ensure that they are buying the premium quality and healthy food that does not contain sugar and starches in a large quantity.
It is worth sharing that these items can make infections and allergies significantly worse by creating the favorable environment for yeast.
Therefore, it is better to select the dog foods that are minimally processed & contain low starches and sugar. It is better to give importance to omega 6 & 3 rich items, lean animal proteins, low sugar & fruit, prebiotics and probiotics, green vegetables including seaweed, kale, and spinach. Coconut oil is also considered best for treating allergies and yeast infection in canines.
Final Thoughts
In the end, it can be concluded that it is better to keep the yeast infections and allergies at bay by simply checking the canines for discharge, swellings, and odors rather than waiting for a disaster.
Apart from this, changing the canine's food to the anti-allergy and anti-yeast diet may not eliminate the entire problem however, it can significantly reduce the intensity of infections.
Pet parents would be amazed at what a little and simple change in diet can do for the dogs. Responsible pet parents should remain proactive when it comes to allergies and yeast infections in the dogs.
By investing a little amount in the best dog food for allergies and yeast infections, they will be capable of providing the dogs with the instant relief while keeping the fungus or infection spread to a minimum.
Hopefully, pet parents have found the dog food on the above-shared list that can help their precious mates overcome the allergies and yeast infection. However, as always it is better to consult a qualified vet to get professional help.