The joy and satisfaction of owning a canine that keeps you busy at home is simply matchless. There is a valid reason why canines are considered men's loyal friends. It's all because of their sweet and loving nature.
But owning a canine is not always easy. Pet parents have to groom them & ensure regular visits to experienced vets now & then. Because a healthy canine is a happy canine.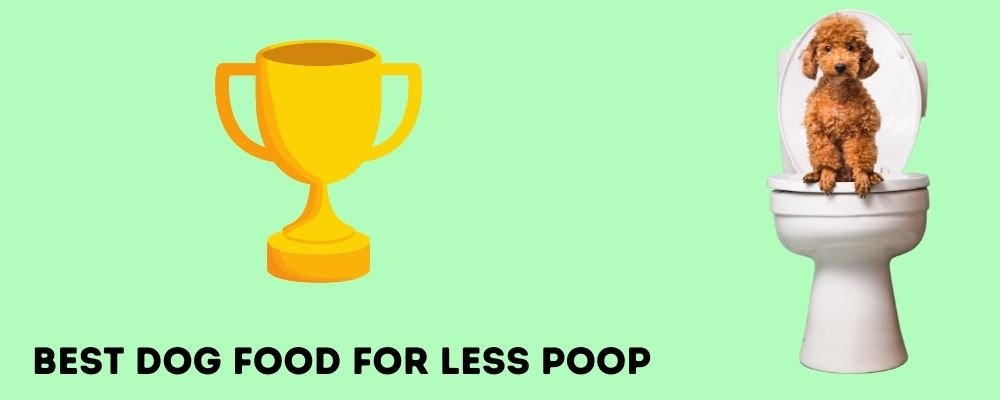 And, the biggest challenge that pet parents have to face is to deal with the canine poop. In fact poop is a bitter reality that the majority of pet parents hesitate to talk about.
Likewise, excessive pooping is quite frustrating for some pet owners & can be traced to different factors, and food being the primary reason. So, every pet parent should know that excessive pooping can indicate many things.
Well, whatever the reason is, it is advised to change the canine's diet & that is where this article comes in.
What are the Major Reasons behind Too Much Canine Waste?
If canines poop too much, it means that his diet disagrees with the process of digestion. If, in case this problem persists after changing the canine's food than, it could be a sign of some underlying health issues including the following:
Colitis
Kidney disease
Bacterial infections
Low-quality canine food
Parasites
Stress
Sometimes the change is so sudden that pet parents cannot even expect some underlying issue or illness. Always remember that parasites can be a factor as well.
How do Pet Parents Know if something is Serious?
If canines experience diarrhea, firstly check the above-mentioned list if any of those reasons are present or not. The canines should be taken to a skilled vet immediately if,
The canine feels lethargic
Diarrhea continues for 2-3 days
If canine feels much pressure while pooping
Weight loss or notably decreased desire for food
Bloody stool, fever, or vomiting
Important Note:
Parvo is a famous puppy disease & if left unattended, can be extremely fatal. Does not matter whatever the reason is, if a pet parent notices that the canine is suffering from diarrhea then, try to give him extra water.
How Many Poops Should Dogs Do in a Day?
Well, a healthy canine poops 1-4 times in a day. But here consistency matters a lot. The canine's food should be consistent in order to make the pooping habits more consistent.
It is worth sharing that changing the canine's food can cause his/her digestive system to do different crazy things. Therefore, while switching from one diet to another, it is advised to take baby steps by introducing the new dog food slowly.
Top List of Best Dog Foods For Less Poop
Image
Title
Price
Prime
Buy
Hill's Science Diet Dry Dog Food, Adult, Sensitive Stomach & Skin, Chicken Recipe, 30 Lb Bag

Prime

Buy Now
Wellness CORE Natural Grain Free Dry Dog Food, Original Turkey & Chicken, 26-Pound Bag

Prime

Eligible

Buy Now
The Honest Kitchen Human Grade Dehydrated Whole Grain Dog Food – Complete Meal or Dog Food Topper – Turkey 10 lb (makes 40 lbs)

Prime

Eligible

Buy Now
Product prices and availability are accurate as of the date/time indicated and are subject to change. Any price and availability information displayed on [relevant Amazon Site(s), as applicable] at the time of purchase will apply to the purchase of this product.
Prices pulled from the Amazon Product Advertising API on:
Reviewed: Best Dog Foods for Less Poop
As mentioned earlier, canine's bathroom habits can be signs of different health problems. Before changing the food, visit a vet to confirm that everything is ok.
Moreover, the foods canine eats can surely affect his bowel movements. So, if parents have tired of continuously scooping poop, carrying and running canine bags wherever they go, I have put together the reviews of the most reliable and best dog foods for less poops for those parents to try.
1. Hill's Science Dog Food- Best Dog Food To Reduce Pooping
This is the best and highly recommended dog food for less poop as it promotes healthy digestion & supports shiny coat and skin.
If canine's stomach reels directly at the sight of many pet foods then, Hill's science dog food should be given top priority. It is vital to mention that this delicious kibble is especially formulated for canines with sensitive skin and stomachs.
It is quite common for canines to develop skin issues when something goes wrong with the diet they consume. The Hill's science dog food has plenty of healthy prebiotics fiber to help canines maintain an efficient and healthy gut microbiome.
In short, this formula is considered as one of the best dog foods for less poop without causing any health issues in canines.
User Experience:
According to the concerned pet parents, the Hill's Science dog food truly help to overcome the issue of excessive pooping. Many pet parents have loved that fact the diet is formulated to be extremely digestible for utmost nutrient absorption.
---
2. Wellness CORE Dog Food- Low Stool Volume Dog Food
This diet is a great option with the best formula variety while being free of grains. The formula contains premium-quality protein that is expertly balanced with nutrient rich superfoods in order to ensure a balanced and complete dog food with guaranteed levels of different nutrients the canines have to thrive without fillers.
Moreover, the food is currently available in both grain & grain-free recipes along with a limited ingredient diet for canine who poop a lot due to food sensitivities.
The nutrient dense diet, made with omega fatty acids, antioxidants, probiotics, and glucosamine is a well-balanced diet for canines. The product is also free of all unhealthy additives including food-by-products, artificial colors, preservatives, flavors etc.
The most noticeable feature of this diet is that it contains 7 fresh vegetables and fruits rich in antioxidants.
User Experience:
Many pet parents have shared positive reviews about Wellness CORE dog food. Some pet parents have said that the food smells extremely good and capable of handling the issue of excessive pooping in a better way.
---
3. The Honest Kitchen Dog Food- Low Waste Dog Food
Before moving ahead, I would like to share that human grade dog food is as healthy and safe as pet parents would expect their food or diet to be.
Thus, pet parents do not have to be worried about allergies & other unexpected food sensitivities or reactions after eating it. This dog food is considered best and safe for all breed types and sizes including senior and adult dogs to help control the problem of excessive pooping. Also, it is considered the best dog food for firm stools.
The leading component of the honest kitchen dog food is dehydrated turkey. Moreover, the diet has higher quality ingredients & ensures more safety standards.
The recipe also contains no by-products fillers, no preservatives, GMO ingredients, soy, corn, and wheat.
User Experience:
According to the canine owners, this dog food smells and tastes superb that is why it is highly recommended. Many buyers have commented that this food ensures healthy bowel movements in dogs with good energy. In short, it is so good to have a product for dogs with human grade ingredients.
---
Buying Guide: Best Dog Foods for Less Poop
It is important to note that it is completely normal for canines to poop however, excessive pooping is directly related to a number of health issues. So, if pet parents want to control this excessive pooping once & for all then, they should consider buying the best dog food for less poop.
What Actually Makes the Best Dog Food for Less Poop?
Well, the best and healthy dog food for less poop is usually known as less residue diet. This type of diet contains all the required nutrients but free of fillers that could be difficult to digest. The less-residue diet is:
Free of grains & other allergens
Very high in protein
Has low fiber content
How to Select the Best Dog Food for Less Poop?
Here are few things to look for while selecting and shopping for the right kind of dog food to help control excessive pooping.
Avoid dog foods with low-quality ingredients including food with more carbs and fiber
Give preference to a dog food having more meat protein
The selected dog food has to be highly digestible
Pick a diet with a moderate quantity of fat
As compared to canned foods, kibbles are usually preferable
Consider buying the low-residue canine food
Is it Normal for Canines to Poop More after Eating the New Food?
It depends on different factors, for instance, if it is changed suddenly, new food or formula can cause canines to poop more & in the worst case scenario, diarrhea. Therefore, it is advised to change the canine's food slowly over 8-10 days.
However, if pet parents did just that & the new formula still caused issues then, he/she might be sensitive to different ingredients present in the new food. Better to consult a vet for further help.
Verdict
In the end, it can be concluded that the best and safest ways of reducing the amount of poop canines produce is to make dietary changes. In some cases, a recipe with low fiber content will serve the best purpose while being highly digestible. If your puppy is doing a lot of poop at home you can put a trash can near by so it wont be a problem for you to clean.
Moreover, barring any allergies or sensitivities, changing the canine's food should address that issue & if it does not then, that might be a sign of an underlying health problem. The above-discussed choices of the best dog food for less poop can help pet parents to control excessive pooping in canines.