Schnauzers are the very distinct dogs & one of the most required after breeds all around. They are the kind of dog that develops a good attachment with the family they live with, so they make good house pets.
But, like other dog breeds and other pets, you need to know many things to become a better pet keeper.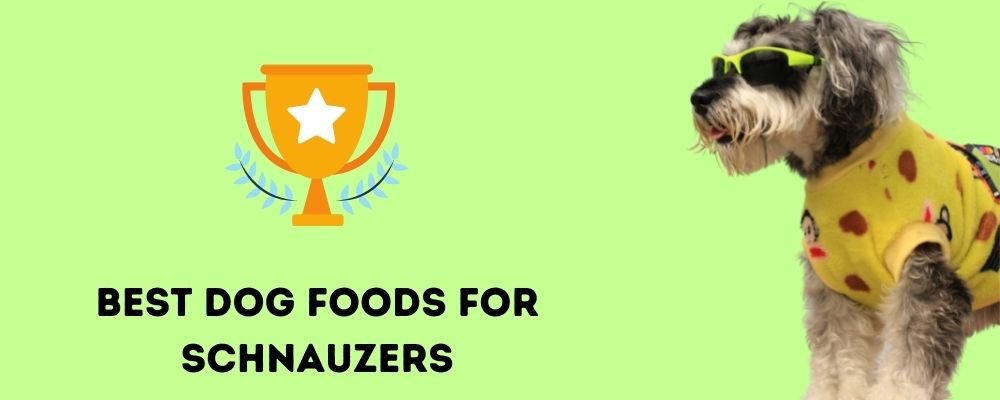 This guide will tell you about the best dog foods for schnauzers and other important details about this breed of dog. This will help you in taking care of your schnauzer in a better way and keep them healthy and happy.
Breed's Overview
The most prominent feature possessed by schnauzers is their bushy eyebrows, mustaches, and beards that are somewhat compareable with Goldendoodles and Yorkies. The distinct facial hair of schnauzers gives them their name, which is a word derived from the German word schnauzer that means snout. These dogs are known for these characteristics:
Intelligent
Get attached to the family
Affectionate dispositions
If they are trained properly, then they become one of the best family pets.
Types of Schnauzer
There are three main types of schnauzers, standard schnauzers, giant schnauzers, and miniature schnauzers, all differentiated because of their size differences.
Standard schnauzers
Giant schnauzers
Miniature schnauzers
Common Health Issues in Schnauzers
Some health issues are hereditary among schnauzers. But some are caused by poor diet and less exercise. If schnauzers are taken proper care, in terms of their habitat, diet, and daily routine, then they can live a healthy life of 12-16 years.
The three different kinds of schnauzers face different health issues. The list of most common diseases among Schnauzers is as follows:
Tumors
Hip dysplasia
Bloating
Epilepsy & Toe cancer
Cysts
kidney stones & liver diseases
Which Food is good for Schnauzers?
The amount of calories good for your schnauzer depends upon the daily exercise of your dog. The calorie intake range is between 150 to 2800 calories per day. It is good to feed your schnauzer 2-3 times a day with controlled feeding. Also, you can choose high-fiber food for Schnauzer. This helps avoid problems like weight gain, bloat, and pancreatitis.
The food should contain proteins to provide them with 10 vital amino acids
It should also contain carbohydrates, fats, and fiber
Avoid recipes having unidentified secret meals
Choose food without harmful preservatives, and artificial colors or flavors
Foods that are Toxic & Poisonous to Schnauzers
Many foods are perfectly edible to us but harmful and sometimes fatal for schnauzers. Therefore, you must take care of what you are feeding your schnauzer and avoid the following things:
Onions
Garlic
Chives
Fatty foods
Bones
Citrus fruits
Baby foods
Best Treats for Schnauzers
When training a dog, the best practice is to offer him a treat. But giving sweet foods all the time can increase its weight and cause diabetes. Therefore, keep an eye on what you are treating your schnauzer with. Here are a few things that prove to be good treats for schnauzers:
Carrots
Hotdogs
Cheese
Unbuttered popcorn
Top 3 Best Dog Food for Schnauzers
Image
Title
Price
Prime
Buy
Rachael Ray Nutrish Premium Natural Dry Dog Food, Real Chicken & Veggies Recipe, 40 Pounds (Packaging May Vary)

Prime

Eligible

Buy Now
Royal Canin Miniature Schnauzer Adult Breed Specific Dry Dog Food, 10 lb. bag

Prime

Eligible

Buy Now
Hill's Science Diet Adult Small & Toy Breed Dry Dog Food, Chicken Meal & Rice Recipe, 15.5 lb. Bag

Prime

Eligible

Buy Now
Product prices and availability are accurate as of the date/time indicated and are subject to change. Any price and availability information displayed on [relevant Amazon Site(s), as applicable] at the time of purchase will apply to the purchase of this product.
Prices pulled from the Amazon Product Advertising API on:
Reviewed: Best Dog Foods for Schnauzers
There are many dog foods available out there, choosing from among them is not an easy task. You need to consider a few things first before determining the right food for your schnauzer.
The amount of exercise and the daily routine of your schnauzer determines which foods are good for him. The size of the dog and its age are also important factors.
Another important factor is the health issues your dog is facing and the doctors' recommendations. Here is a quick review of the top 3 most-selling foods for schnauzers.
1. Rachael Ray Dog food- Best Dog Food For Miniature Schnauzers
The manufacturers of this highly recommended dog food guarantees that the product is cooked safely with the best ingredients and nutrients for Schnauzers from all over the globe.
The first and foremost ingredient of this dog food is chicken raised on farms; however it also includes quail and duck in order to enhance flavor & protein levels.
It contains added vitamins and minerals to add to the health benefits of chicken. This delicious recipe is filled with superb nutrients that will enhance the Schnauzer's overall health. Some dogs are allergic to poultry and wheat.
So this dog food contains no poultry by-products, wheat, filler, and wheat gluten ingredients.
User Experience:
According to some pet owners, their dogs love this food and it has solved many of their digestion issues. Some complained of mold growing on the food and their pets getting sick after eating this dog food. But for many people, this is the most affordable and healthy dog food for their schnauzers.
---
2. Royal Canin Dog Food- Best Dog Food For Schnauzer With Skin Allergies
Up next is a highly recommended pick that is especially designed to provide nutrition to purebred Miniature Schnauzers who are older than 10 months.
The small kibble enables the Miniature Schnauzers to chew their food with ease. The balanced formula helps maintain ideal weight in miniature schnauzers. Moreover, it is considered the Best dog food for Schnauzer with pancreatitis.
The essential minerals & nutrients help to protect the intense coat color of the dogs and take care of the sensitive skin of schnauzers. Filled with wonderful amino acids, the Royal Canin is a perfect choice for schnauzers.
User Experience:
Schnauzer owners have said that their dogs love this food. Pancreatic schnauzers easily digest this food and it causes no health issues to the dogs. It keeps their weight under control and small kibble can be given as a treat to their schnauzers.
---
3. Hill's Science Dog Food- Best Dog Food For Giant Schnauzers
This adult dog food is made with all-natural and highly digestible ingredients. This puts the least pressure on the dog's stomach and keeps it healthy.
It contains vitamin-E and nourishing omega- 6 fatty acids that make the dog's skin coat healthy and shiny. There is a high-quality protein content to maintain lean muscles in Schnauzers.
Immunity is boosted because of an antioxidant blend formula. Meanwhile, antioxidants such as DHA keep the Schnauzer's brain sharp. And, it helps encourage interactivity and play.
The best thing is that it is filler-free & contains a good amount of fiber in order to keep everything on the track.
User Experience:
For the majority of Schnauzer owners, this dog food is the most loved one by their Schnauzers. They wouldn't eat any other dog food but nibble this food happily. Overall, buyers are much satisfied with this dog food and highly recommend this to other dog owners.
---
Buying Guide: Best Dog Foods for Schnauzers
Schnauzers are a bit choosy and quite allergic to many foods. Stomach problems are very common among them caused by eating the wrong kind of food.
Therefore, choosing the right food for your schnauzer is very important to maintain a healthy and balanced life. But which things should determine the right food for your schnauzer? Here is a buying guide to help you out in finding the right food for your schnauzer.
How to Select the Best Dog Food for schnauzer?
Choosing the right kind of food for Schnauzer is not an easy task. It may involve doing a lot of research and asking a lot of people. There are many things you need to consider before buying a portion of dog food. Some of the determining factors are: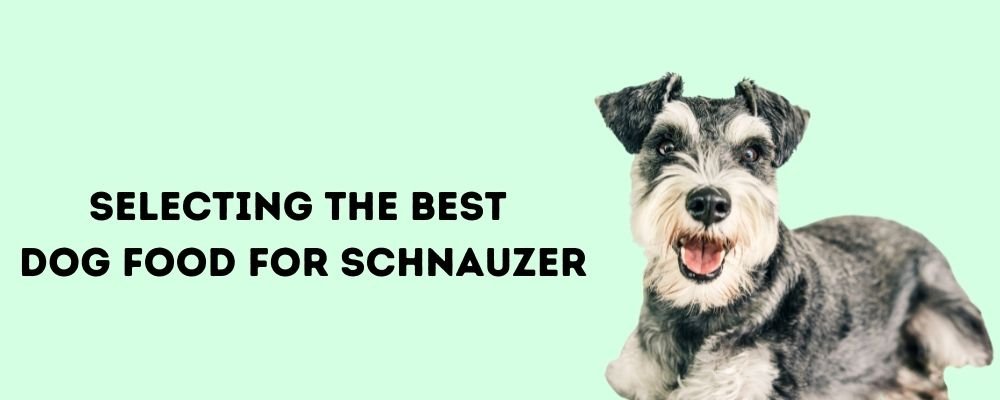 Healthy carbs
The schnauzer food should contain high-quality and healthy carbs. These would give energy to your schnauzer and keep its body working through daily workouts. It would not face fatigue and crashes.
High-quality proteins:
The right amount and right quality of proteins would balance the schnauzer's food and build muscles in its body. This would prevent your dog from becoming hungry all through the day.
Vitamins
To keep the schnauzer's body healthy and working correctly, an optimal level of vitamins is needed. The list includes vitamins A, B, C, D, and E.
Omega fatty acids
These help in the proper nourishment of the schnauzer's skin. It keeps the skin coat healthy and colorful and prevents skin allergies, dryness, and irritation. They also protect the schnauzer's joints and heart.
Antioxidants
They boost immunity and prevent early aging symptoms in schnauzers. They help in healthy cell and muscle development.
Allergies and diseases
Choosing the right food for your schnauzer also depends upon the allergies and diseases that your schnauzer is suffering from. The schnauzer's food should not contain those ingredients which cause allergies and disorders.
Age of the pet
The specific age groups need to address specific needs. The feeding patterns are different for young, adult, and female schnauzers. Age affects the needs for vitamins, minerals, and other essential nutrients. Nursing and pregnant Schnauzers have different needs and need to be fed accordingly.
Final Thoughts
Overall, it can be concluded that if pet parents need some specific advice related to their beloved schnauzers, then consulting a vet is the best option. However, this article would help pet parents to determine the right food for their schnauzers.
All the above-reviewed dog foods are highly recommended for schnauzers to help maintain good health. Pet owners need to choose the required one for schnauzers to help them live a healthy and happy life.