Nutrition plays an important role to keep dogs healthy and safe for a long time. However, the majority of pet parents are unaware that size and breed are two important factors that should be keep in mind while selecting the best dog food.
Or if pet parents own Yorkshire Terriers then, chances are always there that they are thinking about the premium-quality dog food for Yorkies because it can often be tough to satisfy the Yorkie's nutritional requirements and taste buds.
Moreover, it is worth sharing that Yorkies might come in a small package but his nutritional requirements rival that of large dogs. There are various dog breeds (like Chihuahua) & every breed has unique nutritional requirements.
Why? Well, every breed features a different size, coat, & physical needs & as a responsible pet owner, it is important to do a lot of research about this & try to understand the different ways of meeting the pet's nutritional and recommended dietary needs.
After doing this, it will be easy for pet owners to know how to successfully feed the pets in order to ensure their healthy and long life. However, before discussing the best dog foods for Yorkies currently available in the market, I would like to share some useful information about this dog breed.
Yorkie Breed's Overview
Today, Yorkie is a famous companion canine but when first bred in the 1800s, this dog breed was well-considered for being an active ratter. The Yorkie has now been bred smaller & is occasionally used to kill pests but the Yorkie breed still retain a lot of feistiness thus, making this breed a great exterminator.
The Yorkie or Yorkshire terrier is considered as one of most adorable and cutest breeds ever in the world of canine. However, there is much more to have a high regard for dog breed rather than just good looks & features.
What type of Breed Yorkie is?
Depending upon the pet parent's needs and character, this dog breed can make an amazing companion. Yorkie Terrier is a small, energetic, feisty, ambitious, and courageous dog breed.
On the other hand, Yorkie is a bit short-tempered when it comes to other dog breeds or animals. The most prominent features that truly make the Yorkie Terrier as a great companion is his petite size. So, if pet parents are looking for a pocket-friendly option, then they should consider having a Yorkie Terrier as he is quite manageable both as an adult and as puppy.
Apart from this, sometimes it is extremely difficult to fulfil the nutritional requirements of the Yorkies. Just like other thoroughbred pets, Yorkie Terriers have few specific nutritional needs.
Read More: Best Dog Foods for Hypothyroidism
Even though the majority of the pet parents can understand what they should feed their precious Yorkies, few prefer a basic chow. Well, don't get worried as this guide is all about helping the Yorkie lovers to select the right food for him.
Feeding Guide for Yorkies
Yorkie owners should know that small breeds have less digesting capacity, it simply means that Yorkies are unable to handle or digest large meals instantly. Feeding them with large meals can cause stomach & dietary issues.
Likewise, it is extremely difficult for Yorkies to eat all the food items in a single sitting. In other words, Yorkies do not eat a huge quantity of food at once however, they have a habit of eating several meals per day depending upon the calories shared by each meal.
Some Common Health Issues in Yorkies
It is important to share that whether or not pet parents select the top-quality food items for Yorkies, the risks of health problems are always possible. In order to make a good purchase, it is necessary to take a wise approach while comparing the food's ingredients to breed's specifics.
Few common health issues are as follows:
Hypoglycemia
Sensitive stomach
Floating kneecap
Tracheal collapse
Reviewed: The Best Dog Foods for Yorkies
| Dog Food | Rating | Price |
| --- | --- | --- |
| Royal Chain Yorkshire Dog Food | ⭐⭐⭐⭐⭐ | |
| Wellness Complete Dog Food | ⭐⭐⭐⭐⭐ | |
| Hill's Science Dog Food | ⭐⭐⭐⭐⭐ | |
| Eukanuba Dog Food | ⭐⭐⭐⭐ | |
| NUTRO WHOLESOME Dog Food | ⭐⭐⭐⭐⭐ | |
It is worth mentioning that dog lovers should look for the food items catering to the certain nutritional requirements of this adorable breed.
Boasting the entire lifespan of 14-17 years, the Yorkies need special ingredients for maintaining the natural balance when it comes to health and overall wellbeing. Keeping this in mind, I have curated a comprehensive list of the top-rated foods for Yorkies available in the market.
1. Royal Chain Yorkshire Dog Food-Best Food For Yorkie Puppy
This brand is famous for making breed specific premium quality pet food. This particular recipe offers a lot of healthy components. Prospective buyers can rest assured that the Royal chain dog food will give Yorkshire all the healthy nutrients including biotin, fish oil, and folic acid.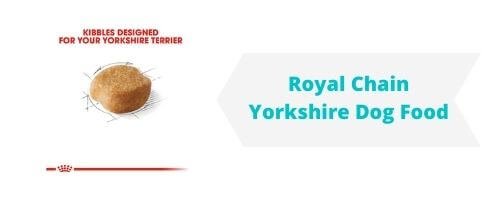 Furthermore, these kibble pieces are especially formulated to the tiny muzzle of the dog. Due to the small size of kibble, this recipe is extremely popular among Yorkshires. A wide range of minerals and vitamins are also included in this yummy recipe in order to help strengthen Yorkshire's immune system along with carotene for supporting eye health & vision.
The best thing is that this dog food recipe includes DHA and EPA to help ensure a smoother and healthier coat, a feature well-accepted among Yorkies. And this is the best dog food for yorkies However, it does have cereal grains including wheat gluten thus, making it a matter of concern particularly among pet owners who are suspicious about these ingredients.
User Experience:
The pet parents have commented that their Yorkies have been eating the Royal chain food for years & seem to love it. Many others have said that Royal chain dog food is surely a hit & will be around as long as Yorkies are. Number of Yorkie lovers have noticed major improvements with Yorkie's fur.
What We Like
Scientifically formulated
Tasty aroma & taste for picky eaters
Help ensure healthy and shiny coat
Promotes dental health
Antioxidants to boost immune health
What We Dont Like
Somewhat pricey
Include corn
2. Wellness Complete Dog Food-Yorkshire Terriers Food
This recipe contains all the important things that a proper meal should have. From real vegetables, quality sources of fiber & protein, antioxidants rich fruits, & added healthy minerals and vitamins,
Yorkie owners won't go wrong feeding the pup this recipe. It is important to note that Wellness complete dog food has 3 main ingredients namely, flaxseed, tomatoes, and chicken. In fact, this amazing formula is especially formulated for Yorkies as it contains no corn, wheat, soy, artificial colors or flavours thus, making it a great source of fat and protein.
These small kibbles are not only easy to consume but they also promote Yorkies oral health by scraping plaque & tartar off from teeth while eating. Additionally, this food recipe contains probiotics, prebiotics, & chicory root while being gentle on the Yorkie's sensitive stomach to support easy digestion. All these qualities make Wellness complete dog food a way to go.
User Experience:
The majority of pet parents are feeding this food to Yorkies and according to them, this food keeps the Yorkie's coat shiny and healthy. They further commented that the entire list of ingredients is very impressive. The buyers loved that fact that this brand offers a small breed version as well that works perfectly for small canines like Yorkies.
What We Like
No meat by products
Support Yorkie's specific needs
Quality fats
Boost metabolism
Budget friendly
3. Hill's Science Dog Food-Best Dry Dog Food For Yorkies
This dog food is formulated in 2 flavors & comes in 5 stages thus, making it easy for pet parents to feed their precious Yorkies the similar brand food in future as well. It is important to share that the Hill's science dog food is highly recommended for Yorkies because it does not contain dyes, flavors, and any kind of preservatives.
Likewise, the Yorkies will surely get the required supply of different vitamins namely Vitamin E, and C with antioxidants in order to enhance & support the Yorkie's immune system. All the ingredients are of premium-quality & include carrots, rice, chicken, whole grains, spinach, vitamins, and minerals.
The most noticeable thing is, this dog food is available in small kibbles that are quite friendly to Yorkie's teeth & digestive system and also its one of best dog food for Yorkies . There are different sizes and treats to choose from to let buyers select a package according to the pet's needs.
User Experience:
According to the Yorkie owners, this is surely the best and delicious dog food out there. The Yorkies simply love the quality of Hill's science dog food. Some pet parents have commented that Yorkies have shown a great improvement in behaviour with increased energy levels after eating this dog food.
What We Like
Top-quality dog food
No. 1 vet recommended
All-natural ingredients
Promote shiny coat and healthy skin
Highly digestible
What We Dont Like
Bit pricey
Tend to irritate Yorkies with sensitive stomach
4. Eukanuba Dog Food -Best Dog Food For Teacup Yorkies
Before moving ahead, I would like to mention that this dog food is considered as a worth buying alternative for Yorkies who don't like beef. The Eukanuba dog food contains chicken and lamb as the primary source of protein. The fat and protein content well surpass the minimum recommendations.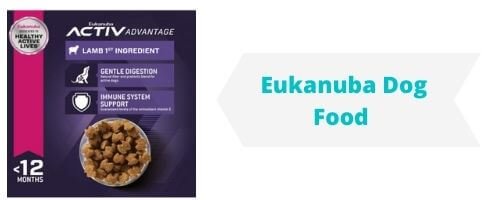 The dog food is a balanced and complete nutrition for medium and small Yorkies. This dog food is best at supporting bone health and muscle growth in athletic Yorkies with premium-quality protein & optimized phosphorus and calcium levels. Moreover, this delicious dog food supports healthy brain development with clinically tested and proven DHA levels for smart & trainable Yorkies.
The product also gives concentrated energy for carbohydrate and fat levels that is very useful for growing Yorkies. Well, on the other hand, it is a bit costly; however it helps Yorkies to grow and explore the whole-new world.
User Experience:
According to the pet parents, this balanced and complete dog food is great at fueling their growing mate's mind, body, & energy. This dog food looks and tastes good. Many pet owners have fed this food to Yorkies in order to make them more healthy and happy. Highly recommend dog food.
What We Like
Make Yorkies healthy and active
Great protein content
Nutrient rich for growing Yorkies
Give the best value for money
Maintains Yorkie's overall health and well-being
What We Dont Like
Lack of vegetables and fruits
5. NUTRO WHOLESOME Dog Food-Healthiest Dog Food For Yorkies
The final option was selected due to its excellent small breed, specific formula & pocket-friendly price range. It is worth mentioning that NUTRO WHOLESOME's line always gives premium-quality food items at a reasonable price tag, & their toys and small foods items are no exception.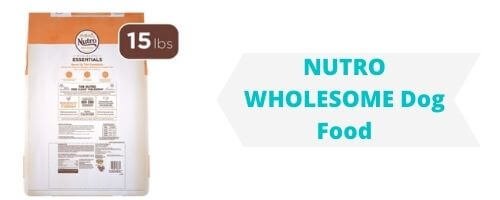 No doubt, this specific food is great if Yorkies love to eat however, pet parents should keep an eye on their weight. Just like the above-shared products, this recipe is also available in small toys or breeds for Yorkies with extra delicate mouths. Well, both formulas have around 15% fat and 25% proteins.
The NUTRO WHOLESOME dog food is made up of top ingredients including lamb, and chicken. The best thing is that this dog food is also grain-free & contains barley, whole grain oats, brewer's rice, whole brown rice, & rice bran. Apart from this, the recipe also has sweet potatoes however, it is completely free of filler ingredients such as soy and corn.
User Experience:
According to the buyers, what actually makes NUTRO WHOLESOME dog food stand out, is the price range. They further commented that this delicious recipe cost them less without even sacrificing much when it comes to taste and healthy ingredients.
Some other Yorkie owners have said that this dog food tastes great while being easy to digest.
What We Like
Natural fiber to ensure healthy digestion
Farm-raised chicken
Non GMO ingredients
Promote shiny coat and healthy skin
Full of flavors and rich in nutrients
What We Dont Like
Not recommended for Yorkies with sensitive stomach
Buying Guide: The Best Dog Food for Yorkies
Being the owners of the young Yorkies always requires a lot of dedication and patience in order to ensure their optimum care and best health. And since a well-balanced diet is considered as a vital factor of pet care, people should try to feed Yorkies the kind of nutrition that can serve the best purpose for them. In this buying guide,
I am going to share some useful information that will help Yorkie owners to narrow down the available options.
What should be considered while selecting the Best Dog Food for Yorkies?
While buying the best dog food for Yorkies, there are several things to consider such as age, activity level, health, & so on. Apart from the individual factors, it is important for pet parents to purchase the right and well-balanced food composition in order to boast the required nutrients that Yorkies need for optimal health and growth. Keep an eye on the following factors:
Age
It is worth mentioning that young Yorkie terriers will usually need a great amount of fats and proteins as compared to grownup Yorkies. Moreover, elderly Yorkies should also be fed with higher levels of protein unless they are prone to kidney issues.
Health Status
As mentioned earlier, Yorkies are prone to develop certain health issues including patellar subluxation, sensitive stomach, hypoglycemia, & tracheal collapse in some cases. All these health issues can be addressed after feeding the Yorkies accordingly. Furthermore, pregnant and lactating Yorkies will also need a special diet.
Energy Levels
Yorkies are surely the most adorable and energetic bunch. But not all Yorkies are exactly alike. Few Yorkies are more active as compared to others. Therefore, it is important to discuss this factor with a qualified vet in order to determine the Yorkie's activity level.
Protein
Young Yorkies need more proteins for building their physique while adult Yorkies can take proteins in lesser quantities. Ingredients such as venison, lamb, duck, and turkey, chicken are excellent protein sources. Always remembers that the recommended protein intake should vary from 29-34% of the whole recipe.
Fats
Well, the healthy and shiny coat & fur that Yorkies possess can only be maintained with the help of healthy fats. Apart from this, fats also play a major role in providing natural care for brains, mouths, and eyes of the Yorkies. The recommended intake of fat should be in the range of 13-18%.
Carbohydrates
It is vital to note that the carbs content should be low as this dog breed can only digest some carbs. Try to give more preferences to the items such as peas, carrots, brown rice, and sweet potatoes.
Ingredients That Should be avoided
Always ensure that the selected food for Yorkies does not contain any artificial colors or flavors. Be it dye, meat by-products, filler ingredients, or even any stomach upsetting grains including soy, corn, and wheat.
Moreover, any type of bone meal and protein by-products ingredients should be eliminated. Keep the Yorkie Terriers away from edibles like macadamia, onions, grapes, and garlic.
Should Pet Parents Feed Yorkies Wet or Dry Dog Food?
It is important to feed the Yorkies with dry food instead of wet food. Due to being a small breed, these precious mates tend to suffer a lot from dental problems.
No doubt, a crunchy or soft food is quite easy to eat & chew and also helps in maintaining a proper dental hygiene. Likewise, dry food is also preferred as it is good at scrubbing away the tartar naturally.
Final Thoughts
In the end, it can be said that selecting the best food for Yorkie Terriers is an important consideration to ensure that they get a well-balanced and healthy diet in order to support hale and hearty development. As stated previously, there is a wide range of variations when it comes to the best dog for Yorkies.
The key factor is to give the Yorkies something that is especially formulated for their life stage development being a small breed. In this way, pet parents can rest assured that Yorkies are getting required nutrition according to the particular needs.
It is worth sharing that do not feed the Yorkie Terriers food items that have too many or too little calories. The recommended practice is to set the daily calorie intake chart after seeking advice from the vet. It is advised to keep an eye on Yorkie's walking style, activity levels, barking sounds, & digestion capabilities, as this will help you to address the potential problem beforehand.
Hopefully, this article has helped Yorkies owners to select the best dog food. Always remember that the amount of food and ingredients source are two major factors to be considered while determining the best and right kind of dog food.