This post was originally posted on May 18, 2015, the day before Buster's eighth birthday.
He's been gone for two weeks now, and I've tried many times to put into words what he means to me. But I keep coming back to this post. That day, our hearts were light and the words came easily. We smiled and laughed and played with squeaky balls. That day I wrote this tribute to a dog that had completely changed my life. And that says everything I still feel today.
---
Dear Buster,
Tomorrow, it'll be seven years since I found you hiding behind the dumpster on our cul-de-sac in Philadelphia. I don't know what you remember, but I can still imagine the construction worker running around to warn us about the "big black dog". After bringing Ty and Rod back inside, I grabbed a leash and came to see if I could help you. You were so scared. It broke my heart to see you trying to make yourself small, shaking, not daring to look at me with those big brown eyes.
I sat with my back to you and spoke softly. I told you I wouldn't hurt you…I just wanted to help you get home. Slowly, slowly you got a little closer. And I kept talking, not looking at you, just reassuring you that everything would be fine.
You seemed to understand, and finally you got close enough to sniff me. Holding my breath, I slowly reached out and tied the leash to the chain around your neck. And that's when I promised you that I would make sure you were safe.
Together we walked through the back patio door and got my first real look at you. You are beautiful! You sniffled around, then you came, sat down, and gave me that deep look that communicated your loss, your confusion, and your hope all at once.
I tried desperately not to fall in love with you, sure someone was looking for such a gorgeous boy! So I called you "Dog", claiming that not giving you a name would control my emotions.
Finding your people was a team effort. Posters of you have been plastered all over the neighborhood. We called shelters and rescues to let them know where you were, emailed members of our dog park, and posted your story online.
While waiting for the phone to ring, we got rid of that awful chain and bought you a real necklace. You've met the vet, to check for a microchip and make sure you're not hurt. And you spent a morning with the groomer who gave you a good bath. It was a whirlwind, and you took it all in stride.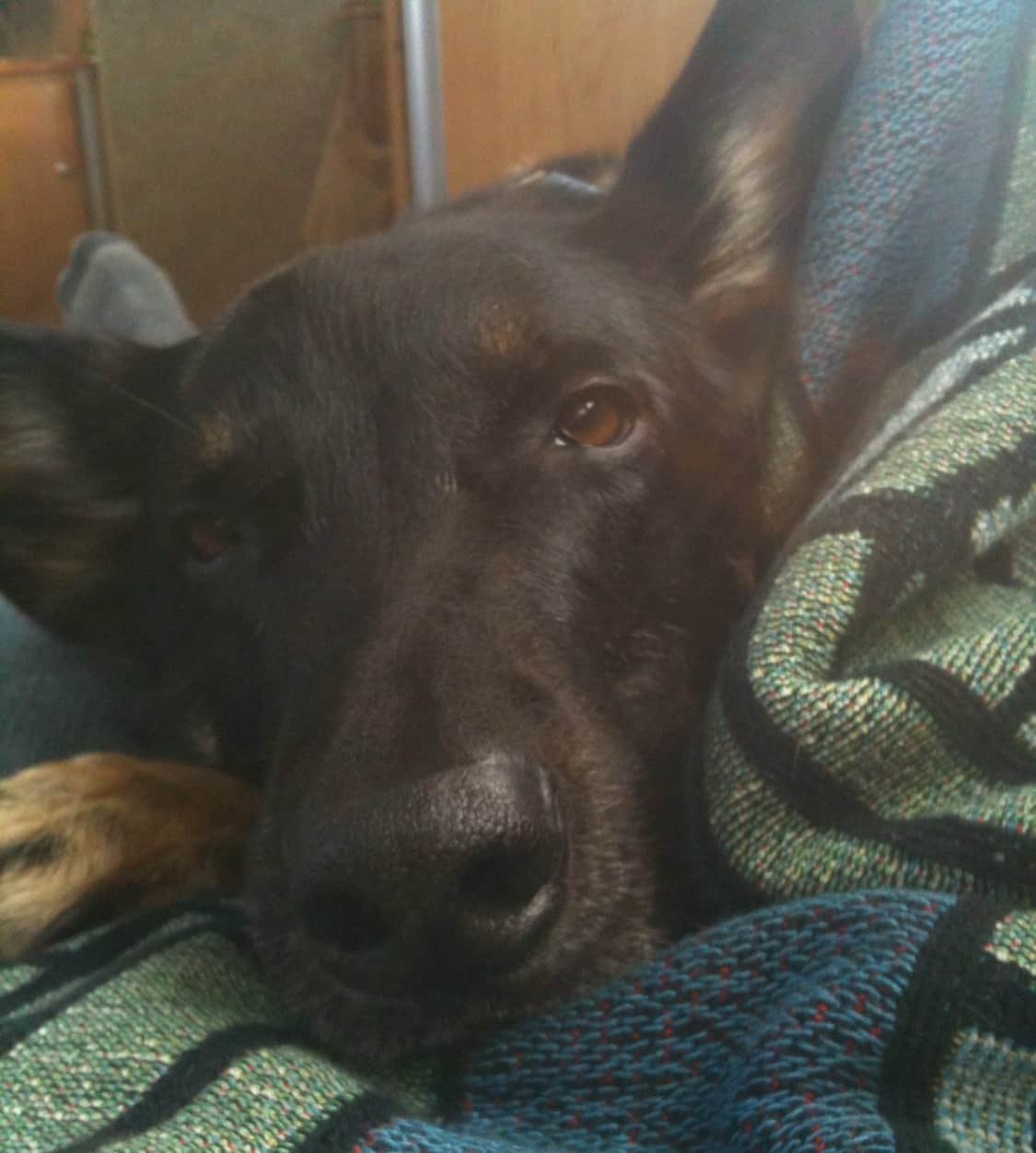 What I remember the most is that you loved being in the car. One day you and I were out for a walk and a neighbor who had heard of you stopped by to say hello. She left her car door open and you almost knocked me over by diving into the front seat! What a sight we must have been – two grown women, laughing so hard the tears rolled down our cheeks – trying to get you out of that car!
Now I realize that was a sign. Over the past seven years, we've covered over 100,000 miles together.
As you know, whoever raised you for the first year of your life never contacted us. Sometimes I imagine there was no one else – that heaven delivered you right to our doorstep, to light up our lives, and so that you could lead us on a journey beyond our imaginations the craziest.
But there were troubles in those early months. Rod didn't want to keep you. He saw that you had no manners and peed every time he bent down to pet you. But Ty was even more opposed. He wanted to be a "only dog", and for the first few weeks it was Ty and Rod against you and me.
When it's time to take you back to the vet to be neutered, you've also been microchipped so you'll never be lost again. Once you recovered from the surgery, you were voracious. Trainers, trips to the dog park, you and me walking miles every day because you were a German Shepherd puppy living in a townhouse.
Ty tried to bite you when you got too close, and Rod kept his distance. We were a divided house – literally and figuratively – and I must admit that I almost gave up. I didn't think I could handle you. And I wasn't sure I could give you what you needed.
Eventually, you and I were able to convince Ty and Rod, and neither of us can imagine a life without you now. We all owe you so much – you have completely changed our lives.
A few months later, we were leaving for our first family vacation. There was no doubt that it would be a road trip, and what a riot it was! You, a one-year-old German Shepherd puppy, confined to the back seat of our car for three and a half weeks. Back then, there was no easy way to find dog parks or find out if you were driving right past a pet-friendly beach. It was during this trip that our real the adventure has begun.
Like a diamond in formation, the pressure of being stuck together in the car for 3,500 miles gave birth to the idea of ​​GoPetFriendly.com – a website that would make it easy for everyone to travel with their pet!
And then life started to get interesting. A year later, we launched the website. Six months later we sold the house and bought our first motorhome. We left it all behind…and started to really live.
Over the past seven years, I've learned so much from you. You taught me that the most important thing we can do is love each other – the rest we can learn together. You showed me that I'm stronger than I think and that fear should never stop me from following my heart. I learned a lot about patience – for you and for me – and that being gentle is always the right answer. And you brought me so much joy. Looking through our photos you smile in almost all of them.
We have seen so many places together, and for that I will be forever grateful. But what is even more precious is that you have helped me to become a better person. Without pressure or demands, you changed me from the inside, just by being you.
So tomorrow we will celebrate your "birthday". Not the day you were born, but the day you came into our lives and started working your magic. You won't understand the fuss or why we'll have special treats – but we will. We remember all the fun we had, all the wonderful experiences we shared, and look forward to the many places we have yet to visit together. And we express our gratitude that one day, seven years ago, the stars aligned and you became ours.
The eleven and a half years we spent with Buster and the fifteen years we spent with his brother, Ty, are among the most precious of my life. I will never be able to fully express my gratitude in words. But I believe the boys felt our love for them all their lives, and especially at the time of their passing. They will always be part of me. And I hope our adventures together have inspired you to make memories with your own pets.
Amazon Affiliate Disclosure: GoPetFriendly.com LLC is a participant in the Amazon Services LLC Associates Program, an affiliate advertising program designed to provide website owners with a means to earn advertising fees by advertising and linking to amazon.com, audible.com and any other websites that may be affiliated with the Amazon Service LLC Associates program. As an Amazon Associate, the owner of this site earns a commission on qualifying purchases.
(Visited 4,450 times, 1 visits today)